This Saturday [Sept 19] more than two dozen walkers and their dogs participated as "Team Bermuda Gold" in the "International Walk To Answer TTP Together," which aims to raise awareness and funds for research on Thrombotic Thrombocytopenia Purpura [TTP.]
"TTP is a rare autoimmune blood disorder that is considered a true medical emergency. TTP is diagnosed at a rate of 3-4 in 1 million people per year. Potentially fatal complications can result from internal blood clotting with damage to critical organs such as the brain, heart and kidneys," a spokesperson said.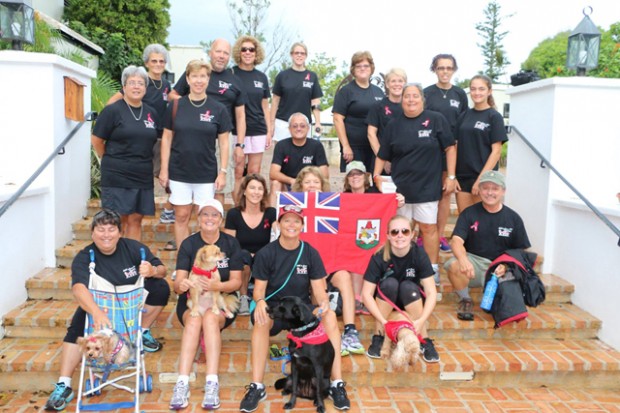 "The cause of TTP continues to evade doctors. What is known is that blood becomes "sticky" and forms clots in blood vessels throughout the body. These clots are made up of platelets, one of the elements in blood. Vital blood flow to the body's organs is restricted, placing the organs at risk for damage due to a lack of oxygen and nutrients from the blood.
"Moreover, since platelets are being used to form numerous unnecessary blood clots, their availability to perform their normal function, which is to seal injury sites to prevent excess bleeding, is compromised. Therefore life threatening bleeding may occur.
"Research has shown that in some cases the ADAMTS 13 enzyme is deficient. This finding can be used to explain blood clotting; however, while ADAMTS 13 enzyme deficiency is found in congenital TTP cases, this is not always true of adult acquired cases of adult TTP. So there is more to the recipe for TTP. Much more research is required.
.
"Walkers were out to support their colleague Leila Madeiros who in 2012 was diagnosed with TTP. Leila remembers not feeling particularly well at work with flu like symptoms and going home to bed thinking she had a virus or something.
"Two days later there was no improvement and a severe headache developed and then she noticed small bruises on her upper arms and during the night began bleeding. Upon arrival at the KEMH ER blood tests were administered and then repeated since she was only registering 4,000 platelets [normal range around 150,000-400,000]. The ER doctors consulted with other hospital doctors and TTP was suspected.
"Later that day she was flown to Lahey to receive critical care from doctors who had extensive experience in treating TTP and administering plasma exchange which is the basic treatment of choice.
"Plasma exchange involves the use of automated machinery which permits the removal of the patient's plasma and replacement with donor plasma during a 3 to 4 hour treatment. Plasma exchange both removes antibodies and replenishes normal plasma proteins. To treat TTP a series of daily plasma exchanges is used."
Ms Madeiros said, "Living with TTP has forever changed my life, stretched my faith, empowered my kids and demonstrated in so many tangible ways the love of family, friends and even strangers! I have had two relapses one in 2013 and again this summer but I have had tons of support, prayers, love and encouragement and feel so very blessed to have survived!!!
"With no known cure, many patients live in uncertainty and some in fear of the next relapse and what damage it may cause. Some patients are still losing their battle with TTP because of the lack of awareness and understanding of this disorder. My prayer is that research will ultimately help find a cure and can help to improve the current treatment regime.
"I am eternally grateful to my family, friends, work family ABIR for their support and love and am so very thankful for God's protection and the doctors both at Lahey and here in Bermuda my GP Dr. Catherine Wakely who monitors my health diligently".
The Bermuda walkers raised almost $4,000 towards the TTP Foundation's Global Goal of $30,000. Anyone interested in further information should go to: www.answeringttp.org
Click to enlarge photos:

Read More About