On Saturday [Oct 10] Argo Group CEO Mark E. Watson, III, took ten school children from around Bermuda for the ride of their young lives aboard an M32 catamaran.
The children were from the Royal Bermuda Yacht Club's sailing programmes with the public school system and home school group and included a mix of boys and girls.
Argo Group CEO Mark Watson with a Bermudian schoolboy.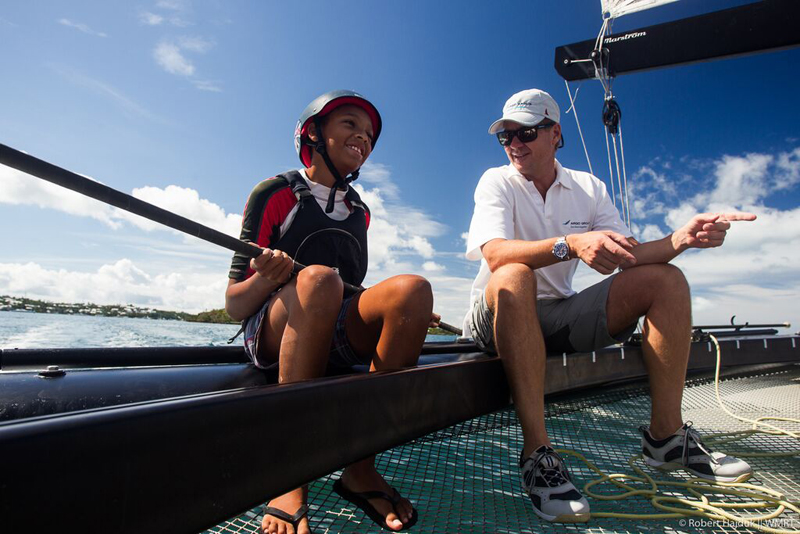 Through the Argo Foundation the company also supports local community endeavours such as the Bermuda Sloop Foundation, the Sea Cadets and the Ocean Academy at BIOS, all aimed at giving children an opportunity to learn about sailing.
Argo's core values are based in team work, self assurance and crossing social boundaries, all qualities that Watson, a successful amateur sailor, feels are well represented in sailing.
"It's no mistake that our values at Argo so perfectly align with sailing," said Watson. "I hope these kids understood that the lessons you learn in sailing can be applied just about anywhere, and to great success. Just about everything I've learned on the water can be used in the boardroom."
Mark Towill [left], Charlie Enright [second left] and Mark Watson [white shirt] with school children on the M32 catamaran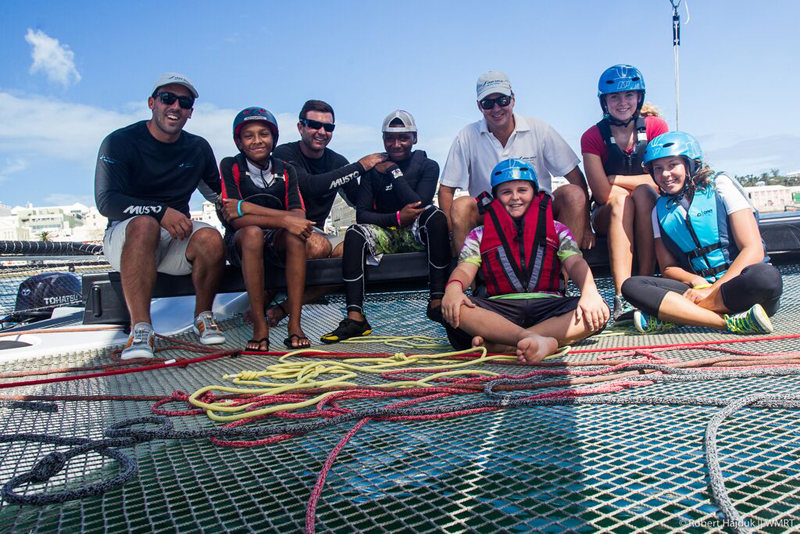 The children buzzed around Hamilton Harbour aboard a new M32 catamaran, a lightweight, high-performance sailboat made of carbon fiber and featuring a mainsail and gennaker.
The children got to helm the boat and trim the sails under the guidance of Watson and round-the-world sailors Charlie Enright and Mark Towill, both of the U.S.
"Sailing is part of the fiber of Bermuda, so giving these future sailors a chance to sail on the M32 was a thrill, especially sailing with Charlie and Mark, two sailors at the top of their game," Mr Watson added.
- Photo courtesy of Robert Hajduk/WMRT

Read More About