The Department of Environmental Protection, in consultation with the Department of Conservation Services, is currently investigating an ongoing fish mortality event involving multiple species.
A spokesperson said, "The Department is actively investigating reports of large fish, including Black Grouper, found floating, dead or dying, on the surface of the water. These incidents are being reported around the reef platform and the fish are usually found individually.
"Fish kills occur on the reefs in certain years and are often associated with warm sea temperatures and plankton blooms. However, there is currently insufficient data to offer a definitive explanation for the recent die-off events, all possible causes are under active consideration.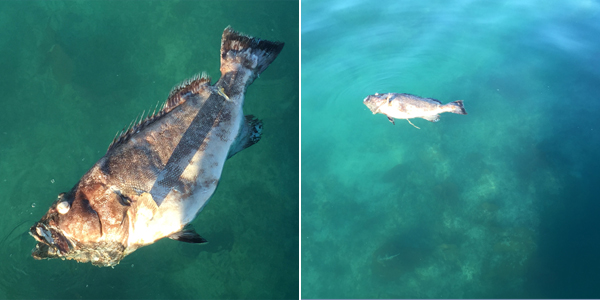 "In an abundance of caution the public is advised not to eat any fish found floating and to report any observations of dead fish to the Fisheries Department email address: fisheries@gov.bm.
"The Department is extremely interested in obtaining a live, floating specimen for analysis. In such a case the public are requested to contact Fisheries Officer Joanna Pitt [239-2326] or the Bermuda Aquarium, Museum and Zoo [BAMZ] at 293-2727. Freshly captured samples may be taken to BAMZ."

Read More About
Category: All, Environment, News