CedarBridge Academy is excited about their upcoming production of the hit musical "Annie." It's the first time in the history of the school that students will be performing a full length production accompanied by its own orchestra.
Two of the supporting roles will be played by teachers, Miss Tona Landy, Visual Arts Instructor, and Mr. Dean Minors, Instructional Leader for Physical Education and Health.
This performance will take place on December 4th and 5th at the Ruth Seaton James Centre for Performing Arts, and the students involved in the production range in age from 15 – 18.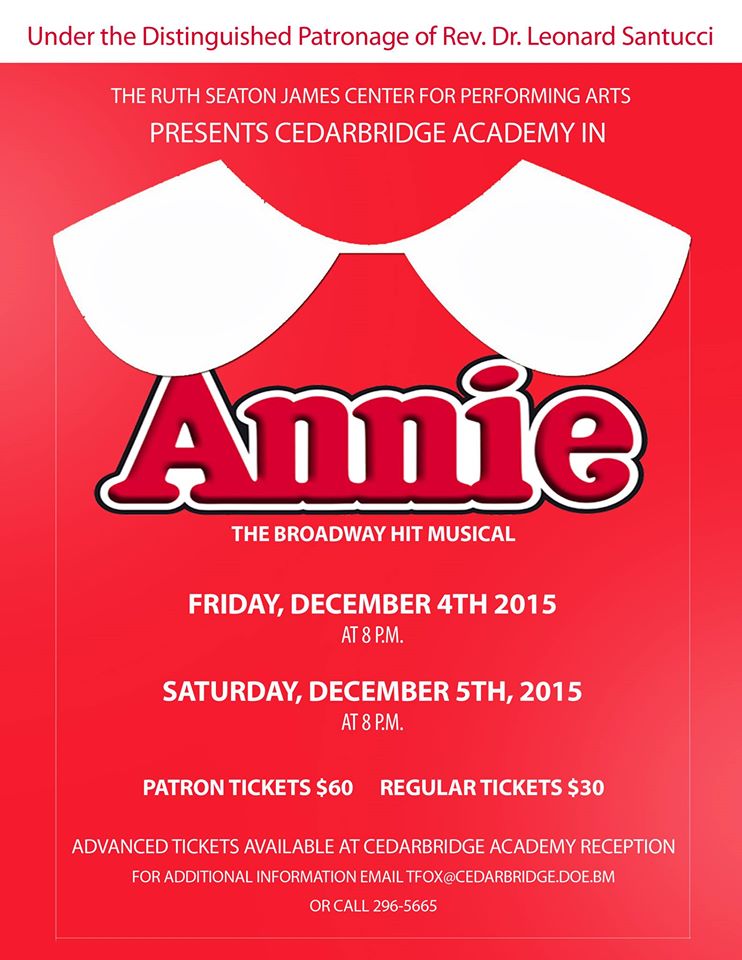 Set in 1933 during the depression, it is the story of an eleven year old orphan who was left by her parents at the New York Municipal Orphanage in the Girl's Annex.
Her parents left her with a promissory note of their return, and half a silver locket around her neck as a surefire identification that would match the other half of the locket that they kept.
Much of the choreography of the play has been done by students. The artistic director is Patricia Nesbitt, Drama teachers and well known playwright and director who has written and directed over 30 plays, the musical director is Tiffany Fox, Instructional Leader for the Arts. Both are teachers at CedarBridge Academy.
Students are involved in every aspect of the play, from stage management, to technical assistants.

Read More About
Category: All, Entertainment, Music