Would you like to win a pair of tickets to the Veterans in Action Old School Reggae Concert on November 10, featuring two of the best singers of the late 80s and early 90s Bernews will be giving away six pairs of tickets [total of 12] to the event on our Facebook page tomorrow [Nov 5].
Designed to coincide with Remembrance Day, the annual Old School concert features "the artists who have paved the way for future generations," with this year's performers to include Leroy Gibbons and Tony Curtis. The show will be held at the BAA Gymnasium on Tuesday, November 10.
Sponsored by Carlsberg, Johnnie Walker Black, Pepsi, and Trip Bermuda, the show will see the gates open at 9.00pm, with showtime at 10.00pm.
For your chance to claim a pair of free tickets, keep an eye on the Bernews Facebook page throughout the day tomorrow [Nov 5].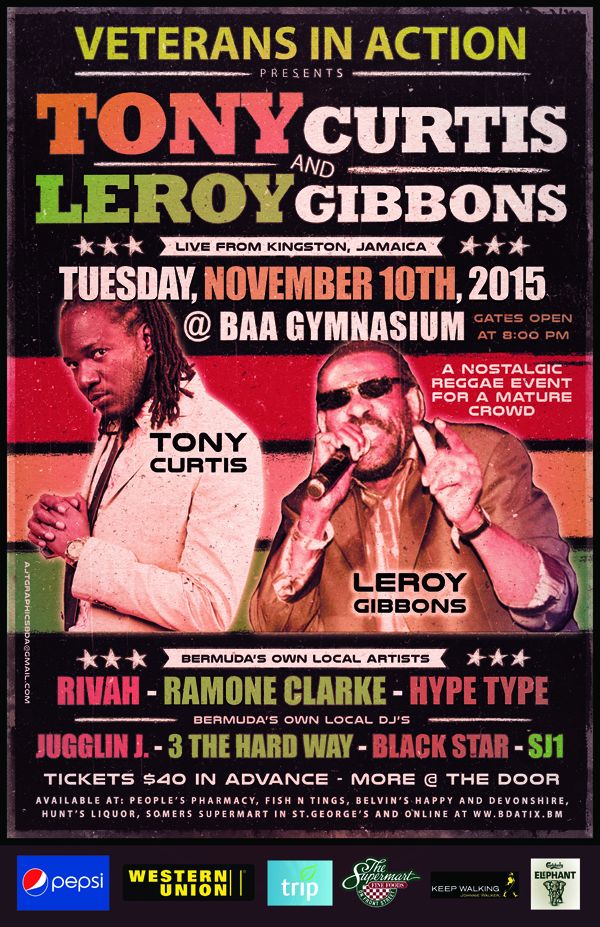 A spokesperson said, "This annual event is being held as part of the Memorial Day Holiday. Like the war veterans, we celebrate the heroes of reggae music. we celebrate those who have paved the way for reggae music today.
"This year we are please to have Tony Curtis and Leroy Gibbon. These gentlemen are two of the best singers of the late 80,s and early 90s.
"Tony Curtis who hails has been singing at a young age. he has a multitude of hits in the 90s. Songs such as Love should have brought you back, Faith, If you were here, If I follow my heart [Dennis Brown cover], My God is real, and many many others are reggae anthems. He was lead singer in the popular group L.U.S.T.
"Leroy Gibbon is one of the biggest singers in the 80s. He is known for monster hits such as Magic moment, Missing you, Power of love, Four season lover and many many more. His sweet silky voice has made him a ladies favorite."
"Local acts will include Riva, Hype Type and the vocally gifted Ramon Clarke. Music will be played by Juggling J, Blackstar, Souljah1 with Magic on the decks, and Culture Shock featuring 3 The Hard Way Blacka, Gibbo, and Donnie.
"Veterans In Action's main mission is to provide quality entertainment at affordable cost. We pride ourselves on the content of our production. Our production are very entertaining yet non offensive.
"We have brought many big name artists such as King Yellowman, Admiral Bailey, Beres Hammond, Tarus Riley, Barrington Levy, Morgan Heritage Family, Machel Montano, and many others to Bermuda over the years. This year we are proud to celebrate 10 years in the business."
Tickets for the concert are $40 for regular admission and $75 for VIP; only 50 VIP tickets are available, purchasable online at bdatix.com. Regular ticket outlets are Fish n Tings, Belvins, Peoples Pharmacy, Hunts Liquors, Kit n Caboodle, Somers in St. George, and online at bdatix.bm.

Read More About
Category: All, Entertainment, Music, News