[Updated with video] Bermuda's Reggie Lambe scored in the 31st minute of today's [Nov 28] game against Barnet, helping his Mansfield Town team to a 3 – 1 victory.
Lambe had his first chance on goal in the 10th minute, with his shot from outside the box going too high, however he made no mistake on his second shot, with his right footed shot from the centre of the box finding the back of bottom right corner of the net in the 31st minute.
Photo of Lambe in action today courtesy of Mansfield Town: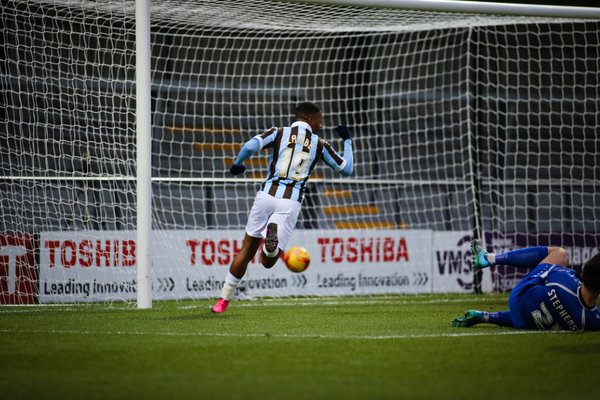 The two teams ended the first half with Mansfield leading 1 – 0, and in the 59th minute Mansfield took a 2 – 0 lead when Matt Green scored with a left footed shot.
In the 76th minute Barnet was awarded a penalty, with John Akinde converting the penalty with a right footed shot to the bottom left corner to make the score 2 – 1.
Lambe had another shot on goal in the 78th minute, however his right footed shot from the left side of the box was just a bit too high.
In the 85th minute Mansfield went down to 10 men when Chris Clements was giving his marching orders after receiving a second yellow card, however in the final minutes of the match they went up 3 – 1 when Barnet scored an own goal, a score that held to the end.

Read More About