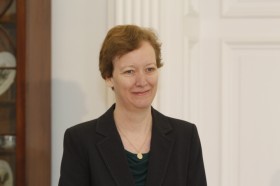 Government House has announced that Deputy Governor Ginny Ferson has been asked to undertake a special assignment to assist the St Helena Government with implementation of the recommendations of the Wass Inquiry.
"She is expected to be in St Helena from February to May 2016," Government House said. "In her absence, former Deputy Governor David Arkley will be Acting Deputy Governor."
In a statement on December 10th, the UK Government said, "The UK Government has today published the findings of an independent inquiry led by Sasha Wass QC into serious allegations of a cover-up of child abuse on St Helena and Ascension Island.
"The inquiry concluded that child abuse is neither endemic nor routine on St Helena and Ascension Island, and found no evidence of corruption or a cover up in the St Helena Police Service, the St Helena and Ascension Island Governments, the Foreign Office [FCO] or Department for International Development [DFID].
"Although noting areas of significant progress in child safeguarding, the report did find evidence of systematic failings by social services and police in the past and has made a number of recommendations which the FCO, DFID and the Government of St Helena have accepted with immediate effect.
"These recommendations include:
Ensuring that incoming Governors and relevant senior administrators are made aware of previous problems, reports and recommendations upon arrival in position;
Strengthening recruitment processes for those who take up positions in St Helena including for police officers and child safeguarding roles;
Providing UK standards of child safeguarding training for all St Helena Government employees likely to come into contact with children throughout the course of their employment;
Re-opening local health clinics so those living in remote parts of the island have easy access to medical attention for themselves and their children; and
Revisiting previous reports on child safeguarding to ensure that all of the recommendations are carried out.
"The UK Government will be appointing a senior UK public servant to provide additional support to the Governor's office to work through and embed recommendations in the report. We will be announcing the details shortly, and expect this person to be on island in early 2016."
Read More About