For the second year in a row, Bacardi U.S.A., Inc. was named "Best Large Spirits Supplier of the Year" at the 2016 VIBE Conference, the premier on-premise beverage alcohol conference in the country. The annual conference brings together the top chain operators, suppliers and associated vendors in the industry.
Every year, VIBE commissions a survey, run by the foodservice research and consulting firm, Technomic, Inc., to conduct the voting and to determine the industry's best supplier team. The program is unique in that it invites beverage operators to rate spirits suppliers across a number of criteria including which company they view as the most professional and best at meeting their needs.
Pictured from left to right: Donna Hood-Crecca, Director, Technomic; Terry Boyer, National Account Director, Bacardi USA; Heidi Hinkle Vargas, National Account Director, Bacardi USA; Sommer Meyer, National Account Manager, Bacardi USA; Brianne Drewry, Customer Marketing Director, Bacardi USA; Zenia Phyun, National Account Manager, Bacardi USA; Ilhan Sanal, Analytics Director, Bacardi USA; Kamyra Capehart, National Account Manager, Bacardi USA; Ken Ramirez, National Accounts Vice President, Bacardi USA; and Tony Abou Ganim, The Modern Mixologist and Moderator for 2016 VIBE Conference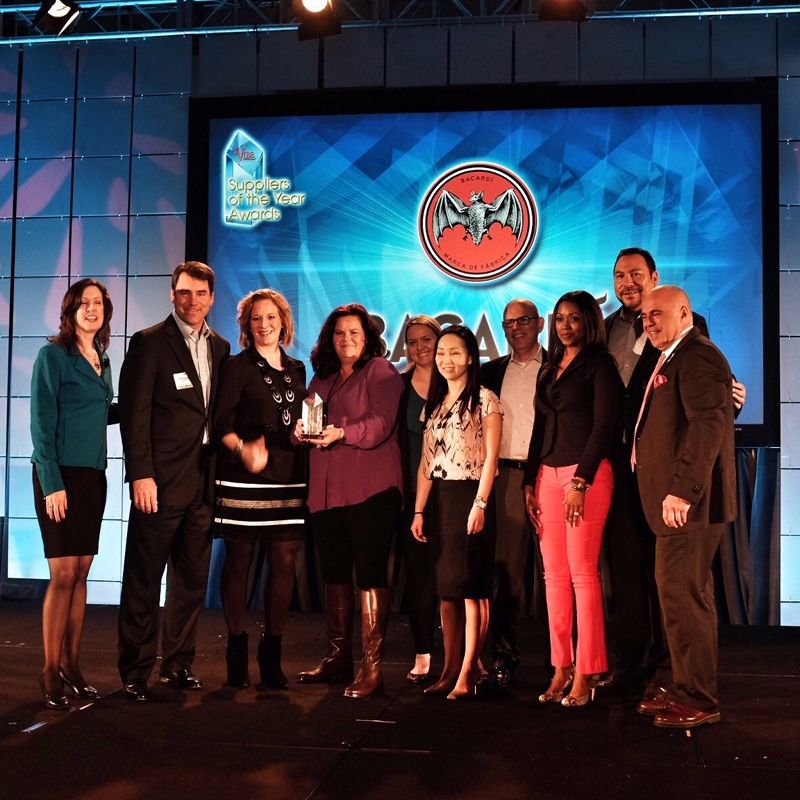 "Congratulations to the Bacardi USA team, as well as our customers and distributors for this award for a second year in a row," said Toby Whitmoyer, Vice President – Customer Marketing for Bacardi North America.
"This award is particularly notable as it's determined by a survey of all the top on-premise operators in the United States so it truly reflects our ability to deliver real value. We are proud to be once again named the 'hardest working team in the business' and are committed to an even greater level of customer service in the future."
Hosted by celebrity mixologist and beverage expert Tony Abou-Ganim, the two-day conference offered chain beverage executives and operators access to interactive and educational workshops, beverage tastings, original beverage research, an impactful keynote session and invaluable networking opportunities.
Read More About