The "How to Grow Your Own Vegetables and Fruits" workshop scheduled for tomorrow [Jan 17] at Sousa's Gardens will go ahead as scheduled.
The team at Sousa's Gardens has confirmed its free gardening workshop will run as planned at 12.00pm tomorrow at its Middle Road, Southampton location. Due to inclement weather conditions, today's workshop was postponed until next Saturday, January 23, 2016, at 10am.
President & Founder of Sousa's Landscaping Co. Ltd., Jeff Sousa, said; "We regret having to postpone today's event, but are pleased to see the weather has cleared and the cold front has passed. We received a great deal of interest from the community in this regard and we look forward to presenting a fun, engaging workshop for those confirmed to support this initiative tomorrow."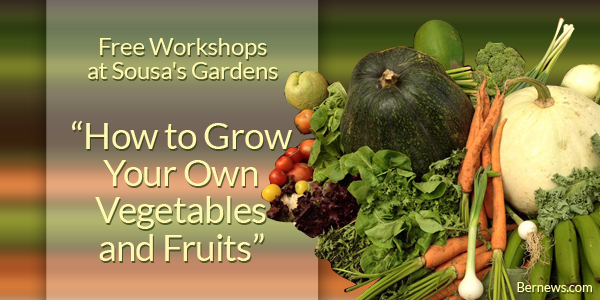 Sousa's Gardens is currently considering dates to hold another "Grow Your Own Vegetables and Fruits" workshop mid-February for those unable to attend this month's workshops.
Mr. Sousa added; "Given the wide out-pour of support and interest, we're looking to host a free "Grow Your Own Vegetables and Fruits" event on February 13 or 14, 2016, where couples will be encouraged to join us as a unique Valentine's Day treat."
Anyone interested in learning more can forward queries via the Sousa's Gardens Facebook page.
Read More About
Category: All, Environment