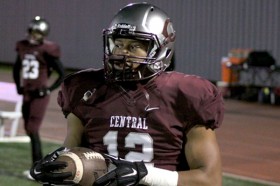 Devwah Whaley has reportedly committed to Arkansas over Texas and Georgia in selecting his future school, but the decision "might not necessarily be final" pending a visit to the running back by Georgia head coach Kirby Smart.
The story at Burnt Orange Nation says "Beaumont Central running back Devwah Whaley committed to the Arkansas Razorbacks over the Texas Longhorns and the Georgia Bulldogs at the Under Armour All-America game in Orlando on Saturday morning.
"The 6'0, 209-pounder's decision might not necessarily be final, as Georgia head coach Kirby Smart and his new offensive staff are set to make an in-home visit after the dead period ends.
"Since the recent production at running back in Athens continues to be a legitimate appeal for Whaley, the ability of that new staff to sell him on the offense's direction could be a significant factor as National Signing Day approaches.
"In terms of depth charts, Arkansas may have the most appealing situation for Whaley. There's a solid chance that junior Alex Collins declares for the NFL Draft and promising 2015 signee Rawleigh Williams III suffered an ugly neck injury as a freshman. He's expected to fully recover, but it's possible that he's never able to fulfill his significant potential.
"While there's only one experienced player behind Collins and Williams III in senior Kody Walker, the possibility of both Collins and Williams III returning does complicate the equation a bit and add some uncertainty to the depth chart in Fayetteville.
"Regardless of roster management, a player like Whaley should always have a spot in any Texas recruiting class.
"However, Whaley's recruitment may not be over when it comes to the Longhorns, either, as he was planning on taking his official visit to Austin in January and that may still happen. If it does, it will provide further evidence that things won't be final with the state's top running back until he signs and faxes his NLI in a month."

Read More About