The Bermuda Girls 18 and Under National team is in Manheim, Pennsylvania for three days of basketball.
The team is taking part in the Blue Chip Pre-Season Challenge, which is one of the largest tournaments in the US with over 250 girls teams present.
This event is an NCAA Certified Event which is also attended by over 200 college coaches attending to find their next university prospect. The team was scheduled to play five games from Friday, April 22st to April 24th.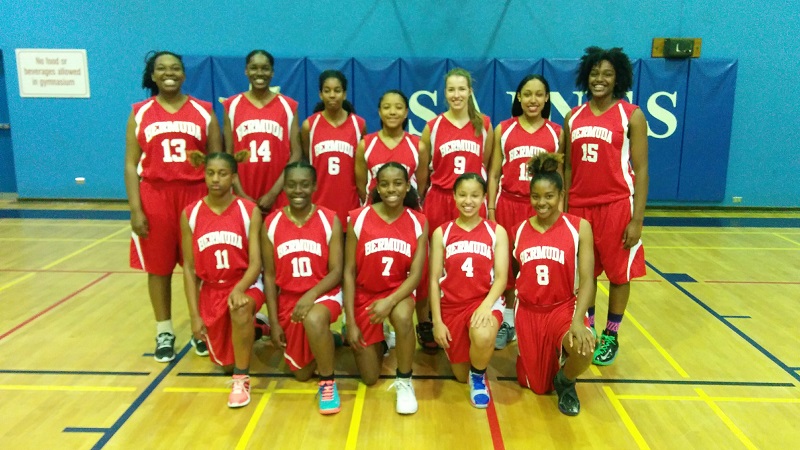 On Friday, team Bermuda opened up the tournament with a game against Queens Express, a speedy team from New York. For the first quarter of play, both teams started off a little slow missing shots, but after a timeout by team Express, you could see a big change in tempo which left Bermuda staggering. Bermuda were beat by an intense fast break offense leading to a big blowout of 64-8.
Coach Charles Peters shared, "It always takes our boys and girls teams from Bermuda a couple of games to get used to the speed and physical nature of play whenever we travel to the US.
"They literally beat us up court all game long. After the game our message to the team was that we are not concerned with wins and losses, as this event is designed for college coaches to evaluate players, however, we do want to see progress every single quarter of every single game going forward."
In Friday's second game against the Connecticut Bandits, team Bermuda responded, playing faster on defense and and also started off the game much stronger with scoring. At the end of three quarters, team Bermuda led by 4 points, but the Bandits started pressing defensively .
Once the Bandits took a ten point lead with four minutes to play Coaches Peters and Erica Woods went with substitutions, opting to get other players experience and to rest their key players for the next match. The final score was Bandits over Bermuda 54-27.
Coach Peters stated, "This was a good team and for three quarters we played them neck and neck. Not only did we see improvement on the defensive end slowing transition and stopping all but a few fast break scores, we also started to see our scorers, led by Amali Smith, Inshannae Smith, and Anna Gilliatt get of to a better start. Demiqua Daniels played awesome defensively and Inshannae emerged as a rim protector for us."
In Saturday's first game against Fencor team Bermuda were again leading through the first three quarters, this time by six points. A few defensive lapses led to open three point shots and Fencor took the lead for good winning by a final score of 36-13.
Peters added, "We simply ran out of gas. Fatigue starts to play a part at the end of game when you play in these kinds of tournaments. At the end there we just couldn't score and we allowed our opponents to dictate the tempo so it felt like we had let a good opportunity slip away there.
In the second game on Saturday, Bermuda faced the Panthers and played their best game of the tournament so far. Bermuda came out on fire behind Amali Smith and Demiqua Daniels taking an 8 point lead into the half.
In the second half, Anna Gilliatt and Inshanae Smith stepped up with crisp passing and adding to the scoring of the team. By the end of three quarters Bermuda took a 15 point lead and finished the game 55 to 31 for their first victory. Amali Smith led the team with 18 points in what was a well balanced attack by Bermuda.
Coach Peters stated, "In the second half we worked together in an amazing display of teamwork and ball control building on our lead. I would say that the girls have improved every single game and really showed signs that we can play with any of the teams here.
"We are looking forward to the final game tomorrow where we can see if we can again improve and build on our gameplay. Demiqua Daniels and Inshannae Smith have been two of the best defensive players at this event and Amali Smith has been simply amazing in every game."
"Our mission is a little different than many of teams that attend this event. Our goal is to develop players that can one day play at the University and National Team levels so we try to get everyone involved including all twelve of the players that we have brought with us.
"If we chose to stay with our starters in games we could have kept them all but the first one pretty close but that would have been at the expense of giving other player valuable experience. More importantly than anything else, we were visited by at least ten college coaches and have received e-mails from at least seven already. That is our mission and I'm happy to say we are achieving it."
Bermuda Girls 18 and Under Team:
SiYaunne Hall
Amali Smith
Demiqua Daniels
Inshan-nae Smith
Anna Gilliatt
Cydnee Todd
Kiarah Seon
Kaylee Lema
Nya Heyliger
Indya Lewis
Daelynn Richards
Zahra Wilson

Read More About