The RUBiS Warwick 5K Fun Run is set to be held on Sunday, April 24, with the event to celebrate Autism Awareness Month, with all proceeds to benefit Bermuda Autism Support & Education [BASE].
The run will get underway at 9.00am at the Warwick Gas Station parking lot, with registration available in person at the RUBiS Warwick, East Broadway, St John's Road, or North Shore gas stations, or online at bermudatiming.bm; entry costs $10.
Entertainment on hand will include refreshments, a fun castle, and DJ Rusty G, with t-shirts given away to all contestants from 9.00am through 12.00pm.
Regarding a raffle draw, the event poster says, "Buy a $5 a ticket for a chance to win two $500 fuel vouchers courtesy of RUBiS Energy Bermuda, an iPhone 6 Plus courtesy of CellOne, an iPad Mini courtesy of Bermuda Blue Printing, dinner for two courtesy of Little Venice Group, an observation flight for two over Bermuda with Blue Sky Flights, and many more."
Anthony Peets, President of BASE said, "BASE is excited to partner with Rubis as we endeavor to keep awareness of Autism at the fore in the consciousness of those in our nation. Law makers, teachers, families and the like we feel must be aware of the worlds number one pediatric concern.
"We want families to know we are here to support and provide training. All funds we raise impact families and those who provide services to those on the spectrum."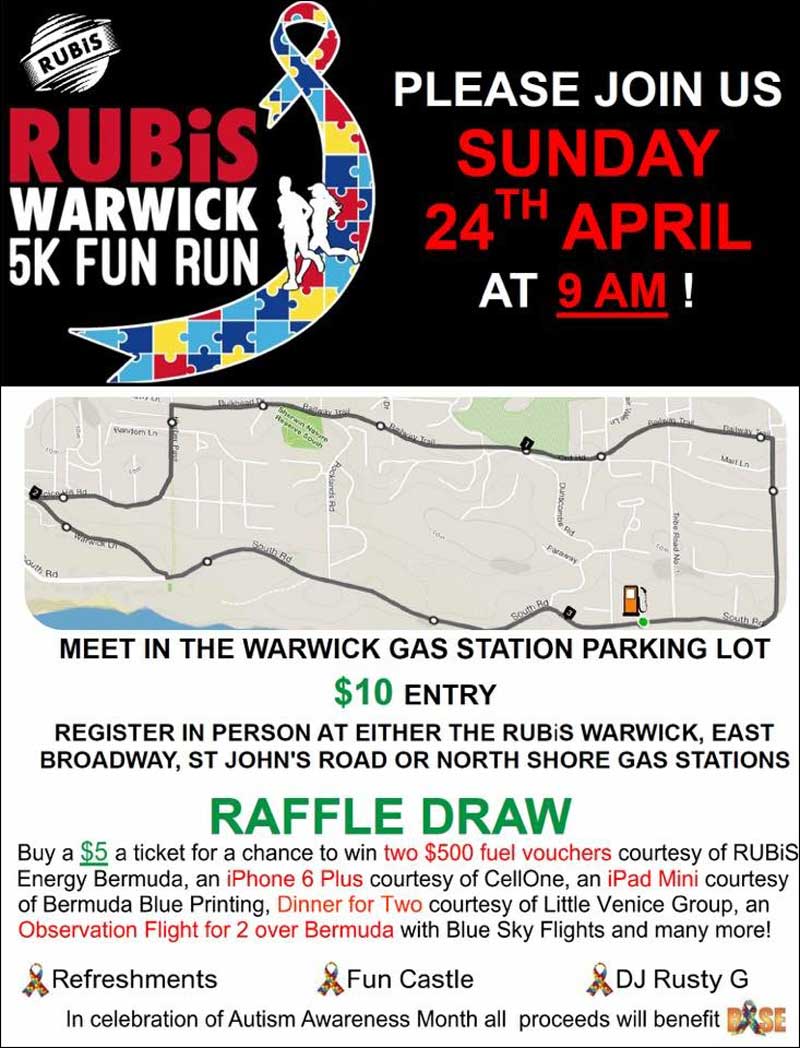 Read More About