Swan's Running Club will hold the Ludwig Cann 5k Race/Walk on Sunday, April 10 at Astwood Park, with an 8.30am start time for walkers and a 9.00am start time for runners.
The event's categories include Juniors: 16-19; Open: 20-39; Masters: 40-49; Seniors: 50-59; and Veteran: 60+. The fee is $15 for juniors, $32 for runners, and $27 for Swan's members and walkers, with a $37 late fee for runners and walkers and a $20 late fee for juniors.The first 60 registrants will get a free pair of "Luddy" socks.
The route will see the event start at the western entrance to Astwood Park, then heading west along South Road and turning around at Gulfstream Restaurant before heading east back to Astwood Park and entering the eastern gate to the finish line.
To register, visit the website or submit a paper entry at Sportseller at Washington Mall.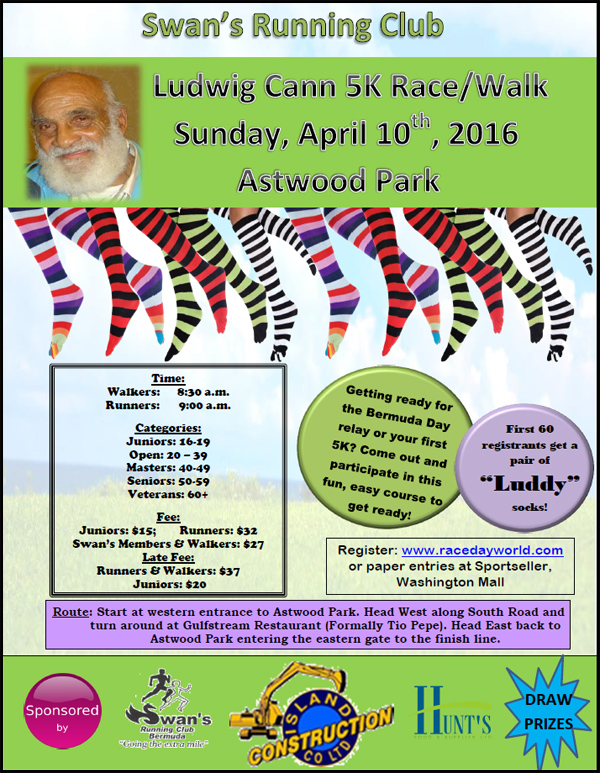 A spokesperson said, "Swan's Running Club was formed in the summer of 1982 by a small group of Bermudian road runners who felt strongly that Bermudians, needed to have a club that represented their interests and encouraged their development. The first Club President was Raymond Swan, Bermuda's best marathon runner, for whom the club was named.
"Beldwin Smith was appointed Vice President, Cecilia Swan was Secretary and Olney Bean was Treasurer. Other founding members were Rochelle DeRoza, George Jones, June Durham, Phillip Albouy and many others. The Club expanded in recent years to include Fitness Walkers.
"The club is affiliated with the Bermuda Track & Field Association and is administered by an Executive Committee elected for a one year term."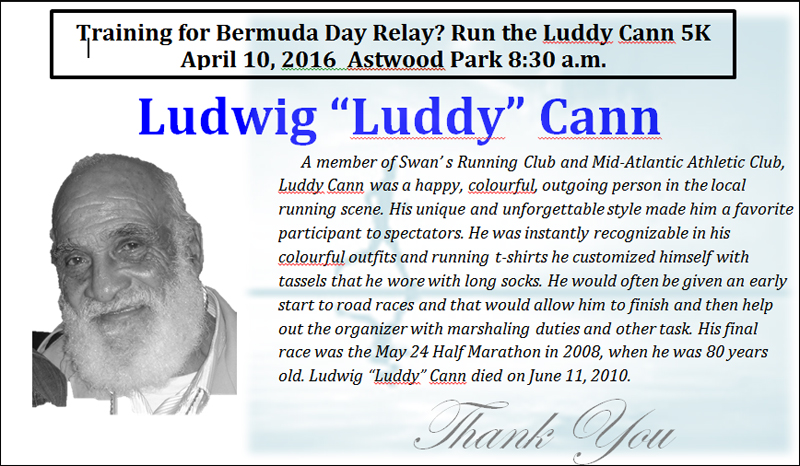 "The Club's 2015/2016 Executive is as follows: President – Andre Rochester; Vice President – Yannis Williams; Treasurer – Tene Grant; Secretary – Kim Burgess; and Public Relations – Keith Smit
"Our mission is to encourage members to improve their health and fitness and reach their full potential by running or walking and maintaining healthy lifestyles.
"Our goals are to develop training programs designed to meet the needs of members of all levels; to support members by providing advice and information to assist in their development; to provide members with the opportunity to compete in local and international races; to bring members together through social events; to organize first class road running events on the BTFA running calendar; and to assist with the development of Road Running in Bermuda.

Read More About