The Nike Golf PGA Team Championship of Canada will return to Bermuda for a second year of competition from October 24 to 27, the PGA of Canada announced today.
The championship will once again see two PGA of Canada professionals pairing up with the partner of his or her choice.
The pair competes together in their respective PGA of Canada Zone Qualifier with hopes of landing one of the coveted spots in the Nike Golf PGA Team Championship of Canada.
"In 2015 we launched the Nike Golf PGA Team Championship of Canada and it was an amazing and memorable success for everyone who participated," says PGA of Canada president Steve Wood.
"So, you can only imagine how excited we are about this year's championship and the PGA of Canada's return to the island paradise of Bermuda and the historic Mid Ocean Golf Club."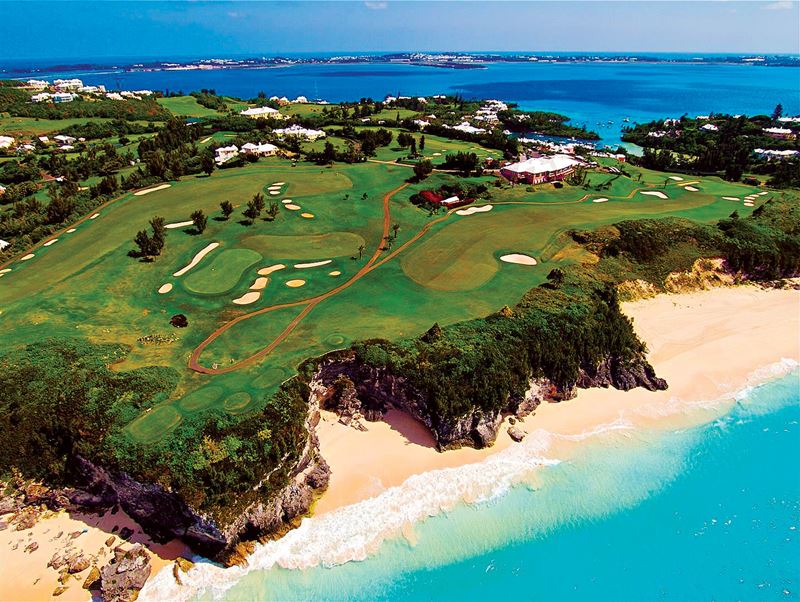 "Last year's Nike Golf – PGA Team Championship was spectacular and we can't wait to welcome them back," said Bermuda Tourism Authority [BTA] CEO Bill Hanbury.
"Our sales and marketing team is advancing Bermuda as a golf tourism destination. Golf visitors are important because they have a positive impact across the Island's tourism economy, far beyond just golf courses."
The BTA said, "During the first quarter of this year, the BTA influenced several visitor golf events that improved travel numbers during the shoulder season.
"Those events include an Executive Women's Golf Association event, Chris Langford Pairs and the Grey Goose World Par 3 at Turtle Hill Golf Club, which hosted 125 overseas players in 2016 – a record for the tournament.
"The BTA was instrumental in attracting former Ryder Cup star Chip Beck to the Grey Goose where he recreated his famous Ryder Cup rivalry with European Tour legend Barry Lane.
"The Bermuda Golf Classic featuring NFL greats including Jerry Rice returned to Bermuda this past April and the same organisers have partnered with the BTA to bring the World Pro Sports Championship this September featuring more former professional athletes.
"The Hackers Cup, Gosling's Invitational, Bermuda Open and Goodwill tournaments are also on the golf tourism calendar in the months ahead. In addition to the increased visitor golf tournaments, there is growth in new areas."
"More and more cruise vacationers are disembarking and heading to the golf course," said Andrew Brooks, the BTA's director of golf sales and marketing.
"And last week I spoke with another college golf coach about the possibility of bringing teams to Bermuda next year for a spring tournament. Cruise golfers and college springtime golfers are two areas where strong growth is happening and we think it is sustainable growth."
Mr. Brooks is working with PGA teaching professionals across the United States and Canada to educate them about Bermuda's golf product and the BTA is incentivising them to bring golf groups to the Island.
Additionally, the PGA of Canada is working with the BTA to reach a greater number of Canadian golfers through its ten-event qualifying series this summer which determines the players in Bermuda for the Team Championship. Players' families and fans will be exposed to Bermuda as a result of the expanded partnership in Canada.
A marketing partnership with the travelling golfers of MeandMyGolf.com, who visited Bermuda in the first quarter, has generated almost 300,000 video views on the pair's YouTube Channel.
They took golf fans to Belmont Golf Course, Turtle Hill Golf Club, Tucker's Point Golf Club and to the Fun Golf miniature course at Dockyard. The MeandMyGolf.com hosts also showed off Bermuda's restaurants and attractions.
For more information on today's announcement from the PGA of Canada visit here.

Read More About