Orlando Pride has highlighted Bermudian professional football player Khano Smith for his work as assistant coach for the club, noting that his "journey has been unlike any other."
A story on the club's website says "From player to coach. Domestic leagues to international tournaments. Youth academies to college to the pro's. From men's soccer to women's. Orlando Pride assistant coach Khano Smith's journey has been unlike any other.
"It started in the Bermuda Premier Division. Two years later, he was with the New England Revolution, where he would go on to make 100 appearances between 2005-10.
"After his first stint in MLS, Smith travelled across the pond to join Lincoln City in England. There, he befriended teammate and future Orlando City assistant Anthony Pulis. Years later, when Orlando City brass sat down to create the Pride, it was that friendship – along with his friendship with Revs teammate and Orlando City USL legend Rob Valentino – that brought Smith to Orlando.
"When Tom [Sermanni] got the job, he was looking for an assistant and he asked those guys if they knew anybody and they both recommended me," Smith said. "A few weeks went by and I got a call from Tom and he wanted to know if I was interested. I came down for an interview, had the interview and that was that."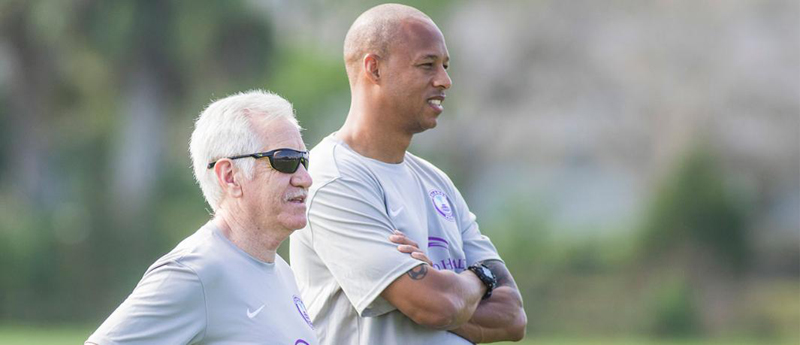 "Before that phone call, Smith first got into coaching with the Revs' youth academy and then moved on to be an assistant at Southern New Hampshire University. The team went 19-1-1 in his only season there, and it gave him an opportunity to get his Master's degree in sports management, which he continues to work on.
"I never saw myself really wanting to be in the college game but it was a good opportunity for me," he said. "It was a really good opportunity to see the game from a different perspective on the college end."
"Little did he know that he'd soon be coaching some of the best female soccer players in the world alongside legendary coach Tom Sermanni.
"As a coach you can learn and steal ideas from anyone. I'm learning from those guys all the time, just picking pieces off everyone," Smith said. "That's what I really enjoy about this environment. It's so many good coaches around that you can steal bits and pieces from everyone."
"It's still a burning desire that I didn't win [MLS Cup]," Smith said. "Hopefully, one day, who knows? Wherever I end up, maybe in my career if I end up coaching in MLS again that will still be a burning desire for me to win one.
"But in the meantime, I'm happy where I'm at. I love being in Orlando. I love working with Tom, coaching the Pride. Love coaching the girls. It's a great setup, we never want for anything here. I'm definitely happy where I'm at."

Read More About