Pembroke Hamilton Club [PHC] in conjunction with the Western Counties Cricket Association [WCCA] announced that the 2016 Cricket Series will be held at PHC Field.
"The WCCA has a history of over 50 years and this will be the first time that PHC has hosted the competition," President of PHC Jonathan Ball said.
"This will be another historic occasion for PHC and we look forward to hosting a successful series at Stadium Lane. With a new venue, we are confident of breathing new life into the series."
2016 WCCA Series Schedule: All matches begin at 11:00am
Round 1 [July 2nd]: Willow Cuts vs Warwick Workmen's
Round 2 [July 9th]: Winner vs PHC
Round 3 [August 6th]: Winner vs Southampton Rangers
Round 4 [August 20th]: Winner vs Somerset Bridge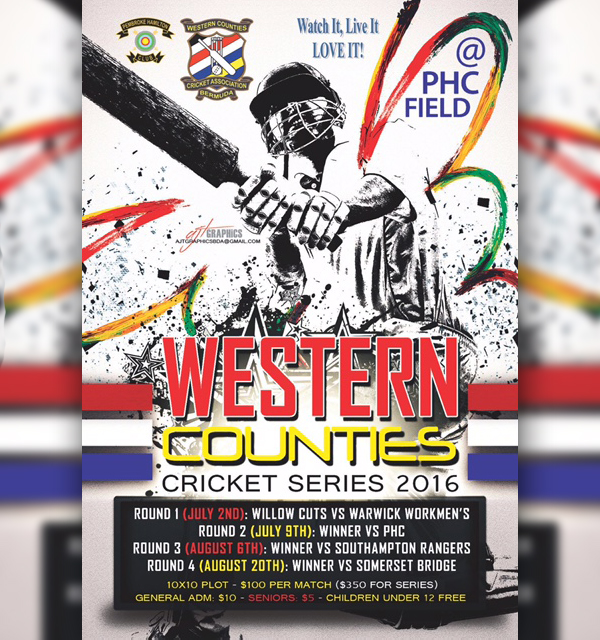 PHC said, "In 1962 the Western Counties Cricket competition was an idea which was materialized by four Charter Clubs comprising of:
1. Warwick Workmen's Club
2. Southampton Rangers Sports Club
3. Somerset Bridge Recreation Club
4. Willow Cuts Cricket Club
"The first competition was contested in 1963 and the Willow Cuts Cricket Club was the first champion winning the Warren Simmons Cup which was to be played for on an annual basis.
"Initially, all matches were played on Thursdays at the Champions Club home ground. These matches became an annual event and grew into not only a sporting event but created a community atmosphere with food stalls and other recreational activities."
Kimberley Jackson, Western Counties Executive stated, "We are looking forward to PHC hosting the 2016 series. The current committee believes strongly in sharing the venues among the member clubs and PHC is a great option to support the Western Counties in raising the profile of the series.
"PHC has experienced tremendous success in their community events since reopening their field and we are looking to bring that same community vibe back into the Western Counties. We encourage the community to book a spot early to join us in another historic moment for the Western Counties Cricket Association. "
The entry and plot fees are:
$10 General Admission
$5 Seniors
Children under 12 are free
10 x 10 plot area – $100 per match or $350 for entire series.
For additional information, please email PHCZebrasBDA@gmail.com

Read More About