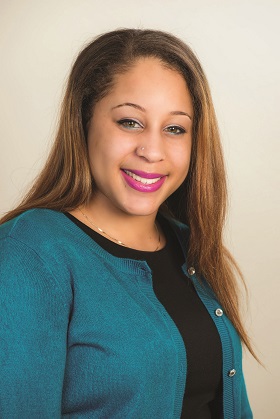 Destination Marketing Association International [DMAI] has selected Rasheeda Burgess [pictured] of the Bermuda Tourism Authority [BTA] for its renowned "30 Under 30″ programme.
The programme focuses on identifying and developing the talent of destination marketing professionals, 30 years of age and under, through increased access and exposure to industry networking and thought leadership.
"Our nominating Committee reviewed every submission, and ultimately delivered an impressive roster for 2016," said Bob Lander, Chair of DMAI. "I look forward to recognizing these 30 future leaders who have already demonstrated exceptional potential."
Ms Burgess, a 28-year-old Bermudian, is an assistant product development manager at the BTA where her potential for leadership was similarly identified earlier this year.
For the past few months she has been enrolled in a rotation programme designed to prepare junior BTA team members to ascend within the organisation.
Recently Ms Burgess shifted from the product and experiences team to work with the operations division. This summer she will move to Washington DC to gather experience at Destination DC, a sister destination marketing organisation.
She'll also attend the DMAI Annual Convention in Minneapolis as an expenses paid guest of DMAI. Following that she will be off to New York City to work with the BTA's sales and marketing team.
"The BTA's rotation programme broadens the knowledge base and skill sets of our junior team members so that every day they come to work they have an opportunity for career development," said COO Karla Lacey who oversees human resources at the BTA.
"We are celebrating Rasheeda's '30 Under 30′ accomplishment internally this week and we hope the public will join us in congratulating her for this international recognition."
The 2016 DMAI "30 Under 30″ honourees originate from a variety of destinations and backgrounds, from National Tourism Bureaus such as Brand USA and the Bermuda Tourism Authority to local Convention and Visitors Bureaus in Victoria, Texas and Macon, Georgia.
"Investing in the future generation of destination experts is paramount," said Mr Welsh. "I am confident that the program we have developed for this year's Annual Convention will inspire and further educate this incredibly talented team of future destination marketing leaders."
Now in its sixth year, "30 Under 30″ is supported by founding programme partner SearchWide, and sponsored by IMEX and USAE. Meet the full class of "30 Under 30″ honorees here.

Read More About