The Bermuda Gymnastics Association has qualified 97 percent of its Competitive Artistic and Rhythmic Team members to participate at this year's USAIGC [United States and International Association of Independent Gymnastics Clubs] World Tournament being held in Orlando, Florida at the Hyatt Regency Grand Cypress Hotel.
Although the gymnasts were required to attain a certain score to qualify, the meet is a club to club event featuring gyms from England, Canada, South Africa, and the United States.
A spokesperson said, "It has been a great season and we are so fortunate to have such amazing athletes and coaches working hard to achieve new personal bests every day. Over the next 10 days we will feature highlights on our Facebook page of our girls as they compete in one of the biggest competitions of the year.
Bella Charleson: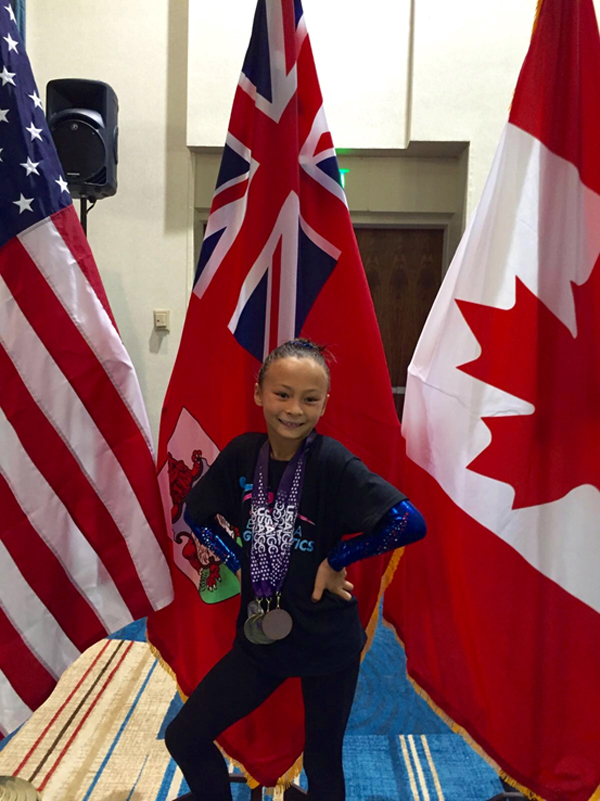 "Today our youngest and most focused athlete 8-year-old Bella Charleson had a lot to celebrate after her competition in the Copper 1 division.
"Bella has been competing for one year with Bermuda Gymnastics Competitive Team, with today's competition being a huge success we would like to applaud both her and her coaches.
"Even with a fall on beam she still earned personal best scores placing 1st on Bars with a 9.350, 1st on Floor with a 9.375 and 2nd on Vault with a 9.550. Those three amazing scores landed her on the podium for a memorable 3rd place All-Around medal with her personal best of 36.650."

Read More About