Conyers Dill & Pearman is hosting their annual open house for current and prospective law students on 3 August from 5:30 p.m. to 7:30 p.m. at the firm's Richmond House location. To register for the event, visit conyersdill.com/events.
The event is designed to promote the practice of law in Bermuda and provide young Bermudian students with a unique opportunity to connect with the Conyers' associates and directors.
"We're very proud of our student initiatives. Through the annual open house we not only provide students the opportunity to connect with our lawyers, but also introduce them to the programmes and awards that are available as they advance in their studies", said Lisa Spencer-Arscott, Head of Human Resources.
Conyers offers several programmes to students pursuing a career in law, which will be highlighted at the event. These include the summer law programme, pupillage training and legal scholarship award.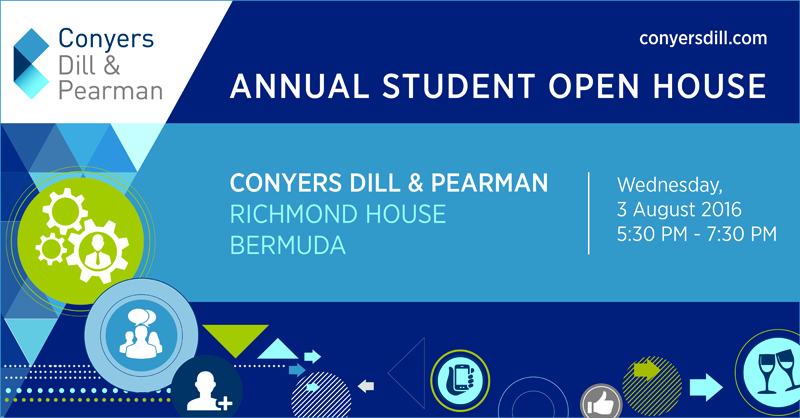 The summer law programme is an important initiative for the firm. It allows students to receive practical experience that enables them to apply their academic skills in a real-world setting. This helps them to better understand their future roles as lawyers.
Students work alongside directors, associates and trainees and participate on active deals and cases in the Corporate, Litigation and Private Client & Trust practice areas.This valuable experience provides students with the opportunity to have real influence in a challenging and dynamic work environment.
Conyers currently has 14 law students rotating through two six week terms this summer.
Further, the pupillage programme offers students training opportunities that ensure professional experience in a range of practice areas. Pupils work in a stimulating and supportive environment with senior lawyers, many of whom are recognised leaders in their practice areas.
Finally, the legal scholarship award is given to a Bermudian enrolled in a law degree course leading to a Commonwealth legal qualification and subsequent admission to the Bermuda Bar.

Read More About