In this latest Bernews podcast, we interview George Fergusson who will soon be stepping down as Governor.
He touches on a wide range of issues such as turning down a request to hold a Commission of Inquiry into the Tucker's Point land matter, the airport redevelopment, the effect on Bermuda of Brexit, the British Government's stance on slave trade reparations and more.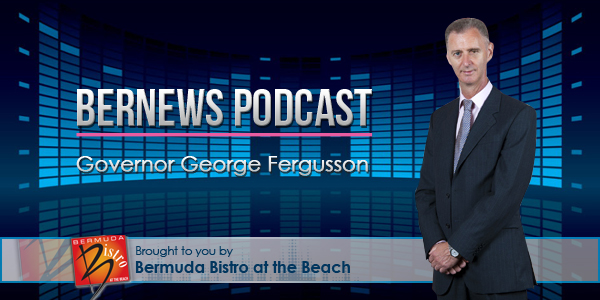 And Mr Fergusson re-iterated his belief that the Commission of Inquiry into issues highlighted by the Auditor General's reports was the right thing to do.
On the airport, Mr Fergusson said a document outlining how the Bermuda authorities will address concerns about the new airport has been submitted to the UK Government.
A Deloitte report assessed the public private partnership between CCC and the Bermuda Government and discovered areas that could be improved.
In a Letter of Entrustment to Bermuda, the UK Government stated that the UK and Bermuda Governments had to "agree on the measures needed to address the "deficiencies" in the Deloitte report".
It added that the Bermuda Government had to "publish a written and evidence-based assurance that the required measures have been taken, before the contract can be concluded".
In this Bernews podcast, Mr Fergusson said the Bermuda Government's report had been submitted and received by the UK. "There are still some exchanges going on but broadly it looks like it [assurances] has been met."
46-minute podcast with Governor, brought to you by the Bermuda Bistro at the Beach 
On the Commission of Inquiry for Tucker's Point, asked if he thought it had damaged the position of Governor he said no, but he added: "I took it seriously. I did pay attention.
"I did a lot of research and was surprised and how detailed the checks and balances were in that 1920s legislation.
"The bit that did worry me more, there did seem to be something in the allegations of a series of questionable deals by possibly colluding estate agents, lawyers and bankers in the 1950s, '60s and '70s.
"Whether there was as much demand on that, and the debate in the House did not focus on it, for a Commission of Inquiry, I was not sure."

Bernews' podcasts aim to provide an in-depth look at current affairs, and the text extracts above represent only a small portion of the full interviews.
You can also download the episode in MP3 format here, view past podcasts here, subscribe via iTunes, access podcasts via TuneIn, or download the Bernews app and enjoy advance listening, with each episode available for download directly to your phone or tablet earlier than it is released on our main site.

Read More About