[Updating] Multiple police vehicles and officers can be seen in the Bandroom Lane area of Pembroke, and Police Media Manager Dwayne Caines has confirmed that a "firearms incident took place in Pembroke." Details are limited at this time, however we will update as able.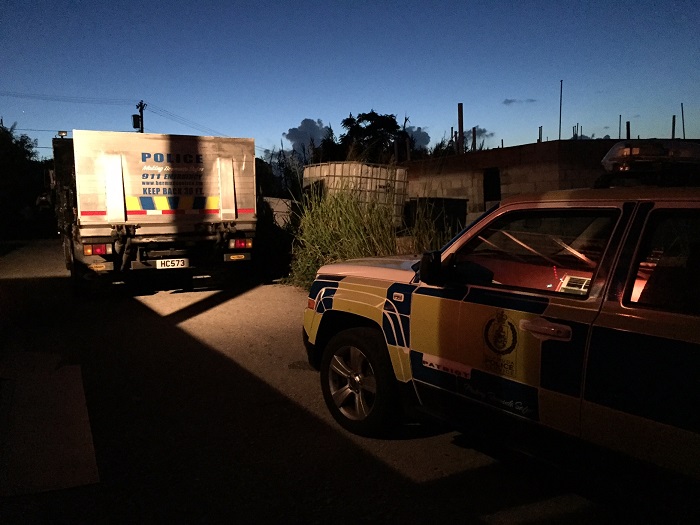 Update 8.39pm: Unofficial reports from area residents indicate that they heard what sounded like multiple gunshots.
Update 8.49pm: The situation appears to be extremely serious and Detective Chief Inspector Nicholas Pedro is on scene, and is expected to address the media soon.
Update 9.14pm: The police are now addressing the media, further updates to follow.
Update 9.17pm: Detective Chief Inspector Nicholas Pedro has confirmed that a 25-year-old man has died as a result of the shooting.
Update 9.35pm: Video of Detective Pedro's statement
Update 9.50pm: Area MP Michael Weeks said his "heart is broken again and he is frustrated" over "these senseless murders", and urged people that if you know something, say something. "It will take more than the police to solve it," Mr Weeks said. "The community needs to come together."
Update 10.01pm: There are rumours that a second shooting took place in Southampton this evening, however we asked Police Media Manager Dwayne Caines and he said those "rumours are false."

There has already been a shooting this week, with a 28-year-old man shot and injured at the Hamilton Parish Workmen's Club on Crawl Hill on August 17th.
Anyone with any information is asked to contact the Serious Crime Unit on 295-0011 or the confidential Crimestoppers hotline number 800-8477.
Read More About