The Eastern, Western and Central Counties announced the Champion of Champions competition for 2016, which will be hosted by Southampton Rangers Sports Club and played on Saturday, September 17th and Sunday, September 18th.
On September 17th, Eastern County champions St. David's CC take on Central County champions Western Stars, while on September 18th the winners of the first round take on the Western County Champions, Southampton Rangers SC. Both games will be 50 over matches [coloured clothing/white ball] starting at 10am.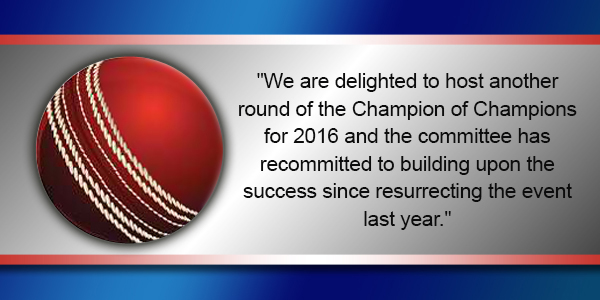 The spokesperson for the joint Counties group, Gershon Gibbons stated, "We are delighted to host another round of the Champion of Champions for 2016 and the committee has recommitted to building upon the success since resurrecting the event last year.
"We want to continue our vision of creating the full branding of our joint venture for Bermuda cricket, which includes focusing on junior cricket and promoting stalwarts of county cricket.
"The members will be active in seeking a title sponsor moving forward and we appreciate the support from the Board, International Sports Shop and Barritts for supporting us again this year to make it happen."
BCB President Lloyd Fray said, "I am very proud that the 3 associations have continued this historic competition which was resumed last year with the support of the Board.
"It has its own unique prestige and always produces entertaining cricket. It provides an exceptional boost to an exciting last month of our season, as spectators will have the opportunity to watch clubs battle for title supremacy between the counties."
The Champion of Champions is being supported by the BCB, International Sports Shop Ltd. and by John Barritt and Son Ltd. Barritts have been long-time supporters of cricket events in Bermuda with their soft drink and water products.
The entry fee is only $10, seniors and children under 16 are free.

Read More About