Citizens Uprooting Racism in Bermuda [CURB] released their 2016 Racial Justice Platform which they said contains 27 proposals "for bringing about racial justice in our community."
"This document is the result of multiple meetings, discussions and outreach and the represents the consensus of the CURB Central Council," the organisation said.
"It is hoped that elected officials, and those contemplating running for public office, see this as an opportunity to provide bi-partisan support for actions that will help bring about long-term stability and equity to our community."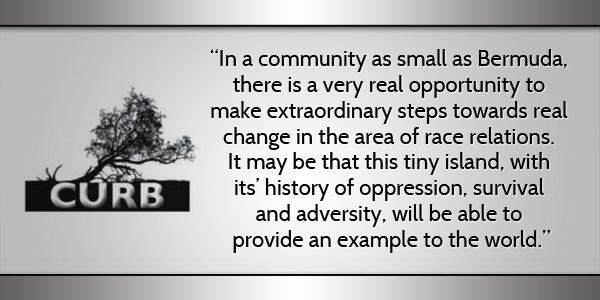 CURB's platform begins by saying, "Bermuda's struggles with racism represent a microcosm of what occurs in many countries elsewhere.
"CURB members' visit to South Africa in 2012 showed that although they have made strides in their truth and reconciliation process and social justice work, they struggle to confront the issues of white privilege and ongoing structural racism.
"In a community as small as Bermuda, there is a very real opportunity to make extraordinary steps towards real change in the area of race relations. It may be that this tiny island, with its' history of oppression, survival and adversity, will be able to provide an example to the world.
"All Bermudians know that change is needed and as a society we must have the courage and determination to carry out a vision that enables us to heal and find a way forward in community. Big Change requires Big Vision.
"With Hope, Hard Work and a great deal of Love, lives can be changed; and it is for this reason we must take on a new Vision for our society, one that will bring about a change in all our lives for the better and a more stable, healthier and racially just community."
The 27 proposals are listed below, and specifics on each are available in the PDF that follows:
Support for a reconciliation process
Guaranteed Government scholarships
Revival of a Workforce Equity Bill
1% Mortgages through the Bermuda Housing Corporation, 3.5% Mortgages for Expanding Families
No-claims Discount, Home-Owner Insurance
Establishment of a Necessity Goods Depot
Capital Gains Tax on Houses over a Determined Annual Rental Value
The Mandatory Reporting of Wealth by Race
Legalization of Marijuana
Repeal of Section 315F of the 2005 Amendment to the Criminal Code
Greater use of Restorative Practices in the Criminal Justice System and in the community as a whole
Review of sections 3 and 4 of the Debtors Act 1973
A Complete Review of the Criminal Justice System
Racial Equity Index
Workforce Survey
Voting Rights for those imprisoned and/or on parole
Introduction of Equality Impact Assessments through legislation and/or public procurement policy
Living Wage
Financial assistance
Economic Intimidation
Immigration Reform
Repeal of section 3 of the Incentives for Job Makers Act 2011
The introduction of graduated income tax
The creation of a Black History museum, library and research centre
National Health Care
The introduction and/or expansion of Black Studies curriculum in all schools and the Bermuda College
Reparations
 CURB's 2016 Racial Justice Platform follows below [PDF here]
Read More About