The Bermuda Society of Interior Designers [BSID] is presenting a show of beautiful Christmas wreaths that are being auctioned to raise funds to benefit the Coalition for the Protection of Children and the BSID Scholarship Fund.
The show, on exhibit just outside of Gibbons Home store in the upper level of the Washington Mall, features a broad spectrum of creative one-of-a-kind wreaths.
They range from the traditional holiday forms like "Wish Upon a Driftwood Star" by Diane Saunders, to the more unusual and unique creations like "Extra Extra! Read all about it", an entry by Erica Raubenheimer.
BSID President Jill Henneberger says that "submissions never fail to disappoint" and she is "once again impressed with the creativity and originality of all wreaths."
Entrants were also judged for originality, creativity, execution and use of materials, with prizes awarded for Best in Show, three Runners Up, and two Honourable Mention awards.
.
This year's judges included Julie Mayor of Washington Properties, Sheelagh Cooper of the Coalition for the Protection of Children, and a special international judge was also invited to participate in the judging team this year.
Feras Irikat is the Director of Design and Marketing for Lunada Bay Tile and was on island to give a lecture to the design community sponsored by Pembroke Tile and Stone.
He thought that the show had "tough judging" and expressed thanks to all the entrants, saying that "there were some real beauties and the handiwork really shone through."
"I was really honoured to be included in the judging process, but above all I was stunned and delighted by the creativity and skill that went into making all those beautiful wreaths," he added.
A Fan Favorite prize will also be given to the wreath with the most likes on Facebook, and this is generating fun for entrants that promote their creation with friends online. All prizes have been donated by BSID Industry Alliance members, and winners will be presented at the close of the show on December 1.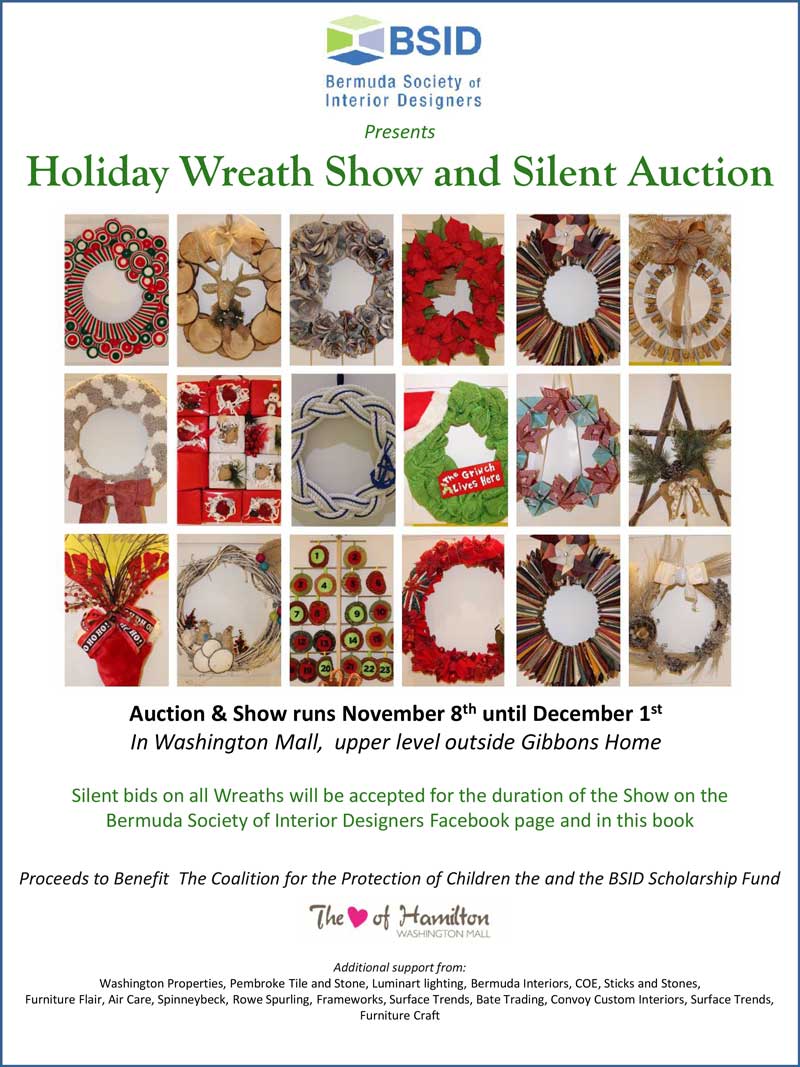 "Interior Designers provide their clients with the innovative interiors and progressive workplaces and use standards and codes that make their facilities ergonomically efficient, aesthetically stimulating, and safe, environmentally friendly spaces," BSID said.
"This knowledge requires a specialized degree from an accredited school and there are currently several Bermudian students studying the profession at recognized schools in the UK, USA and Canada as well as via specialized remote programs.
"The Bermuda Society of Interior Designers supports their efforts with their annual scholarship that this show partly benefits. The Scholarship was launched in 1992 and has awarded over $140,000.00 since its inception. Chanika Jones, a three time recipient of a scholarship, is pleased to support the professional designers who support her, she has also created a wreath this year for the Show and Auction."
In past years, individual wreaths have fetched over $350, with the last few hours of the auction seeing bidding wars for favorite wreaths. For this reason, Ms Henneberger suggests placing "your highest bid early and watch the bidding carefully to ensure you get the wreath you want. "
Bidding continues until 7.00pm on December 1, and bids can be placed in the book at the exhibition or via the BSID Facebook page. For more information about the BSID, visit the website or email info@bsid.bm.
Click to enlarge photos:

Read More About
Category: All, Entertainment, News, Photos