The winners of the charity Christmas tree competition — which was sponsored by Sun Life Financial International — were recently named, with a tree decorated by the Bermuda Society for the Blind taking first place and earning a $2,500 donation.
The announcement of the winners saw Merrilyn Johnson on hand to distribute the donations, which ranged from $500 for each participant to the $2,500 donation for first place.
Placing in third and receiving a $750 donation was the Matilda Smith Williams Seniors Residence, with a spokesperson for the facility saying, "The tree capture retirement, travel, cruises, beaches, flights, volunteering, wills, passports, medication, nurses, glasses, and more.
"The Christmas cards were made by our residents during art therapy. The nurse puppet tree topper is used for puppet therapy. Orange is Matilda Smith Williams Seniors Residence's color. Gold symbolizes wealth, good health and abundance.
"Retirement is when you stop living at work and start working at living."
Placing second and receiving a $1,000 donation was Action on Alzheimer's & Dementia, with a spokesperson saying of their tree, "The tree representing Action on Alzheimer's & Dementia [AAD] is decorated with Christmas cards featuring artwork inspired by the festive season.
"These images were created by our clients – people living with dementia in Bermuda who participate in our popular art-therapy classes every week."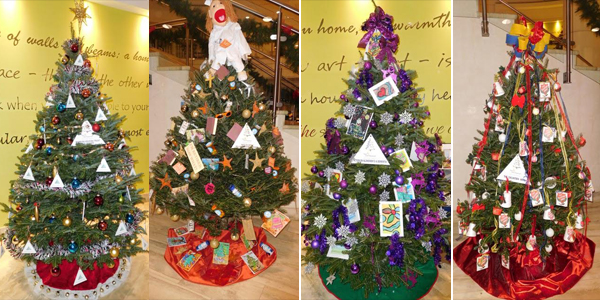 "The funding we raise as a charity helps support quality-of-life initiatives like this, providing engagement, companionship and fun to an increasing number of Bermuda residents affected by this incurable disease.
"AAD also works to support families and caregivers, raise awareness, and lobby for best care and treatment practices."
Placing first and receiving a donation of $2,500 was the Bermuda Society for the Blind, with a spokesperson from that group saying, "Our tree is filled with a delightful array of ornaments that people with vision impairments can explore with senses other than sight—brightly colored ornaments shine with glittered texture, smooth glass balls are highlighted with raised designs, and rings of jingle bells and pine-scented cardboard trees add a special touch.
"Other decorations relate to people who live their lives with no or compromised vision. Canes, from the candy variety to actual white mobility canes, a variety of glasses and magnifiers, and photos captioned in Braille bring this magical tree to life even for people who cannot see it."
The People's Choice Award, decided based on more than 250 votes, went to the Bermuda Red Cross, which received a $1,500 donation.
A spokesperson for that group said, "Bermuda Red Cross offers a free transportation service to our seniors. The volunteer drivers drop off the senior to doctors and hospital appointments, dialysis and the clinic.
"The client is then collected from their appointment and taken home. When possible, the driver will also assist the client with getting prescriptions filled and even pick up a few groceries."
Click to enlarge photos:

Read More About
Category: All, Entertainment