On Saturday [Dec 3], there will be a full day and night of entertainment on Court Street, with a free Kiddie Area, Gombeys, live performances, Kids Dance Competition, Karaoke Competition and more
The announcement said, "On Saturday December 3rd, 2016, Court Street will come alive with a full day and night of free entertainment and activities from 1 pm – 3 am.
"Under the auspices of Uptown Saturday Nights, the Uptown Cultural Committee has successfully brought together several organizations who have committed to collaborate and produce their events collectively as part of the 'Road to New Year's Eve'.
"Emperial Group, Gina Spence Productions, Spanish Town Entertainment, Startime, Island Events Group, Chill Entertainment, Dread & Baha Animal Productions, His & Hers Entertainment & Global Art TV have all been working diligently over the past few months planning and preparing for a series of events designed to bring much needed energy, commerce and positive experiences into an area that we all agree needs upliftment and support.
"This weekend's activities begin with the Gina Spence Productions Annual Christmas Community Outreach & Street Festival from 1pm – 5pm featuring Christmas Giveaways of Turkeys, Hams & Christmas Trees, Gift Cards for seniors to purchase much needed medication and healthy food supplies for children and families in need.
"There will be a free Kiddie Area, Gombeys and fantastic performances by RoyLSilva, Chewstick, Kings Kids, Anointed Steps Dance Ministry School, Chrysda Smith, Toni Robinson, Transformed Life Challenge Dancers, Bermuda Karate Institute, Shine Hayward, Club 2000, For God's Purpose and many more!
"After the Christmas Community Outreach program, there will be a Kids Dance Competition at 6pm hosted by the Animal featuring Nae Nae and Little Quan with prizes being given to 1st, 2nd & 3rd.
"Chill Entertainment will host round one of the Karaoke Competition at 7pm which will see professionals clashing with amateurs on stage for $10,000 in prizes. 1st, 2nd & 3rd on the night will win prizes and qualify for the final round.
"Following the competition DJ Chill will play Old School from 9pm as a warm up to Old School Extreme, organized by Island Events Group, featuring China & Bussy, Malcolm Lethal Weapon Smith and DJ Cavon at Swinging Doors and Places Place from 10pm – 3am.
"These events are sponsored by BEDC, Ministry of Public Works, Ascendant Group, People's Pharmacy, BGA, The Phoenix Stores, Mediaville, Bank of Bermuda Foundation, Market Place, Census 2016, City of Hamilton, Chamber of Commerce and Bermuda Pest Control.
"The next event for Uptown Saturday Nights will be on Saturday, December 17th and the final event for 2016 will be the Uptown New Year's Eve Celebration on Saturday, December 31st.
"If you wish more information about the events, to register as a vendor or to participate in any of the competitions please contact the Bermuda Economic Development Corporation at 292.5570, email info@bedc.bm or visit the Uptown Bermuda website at www.uptownbermuda.com."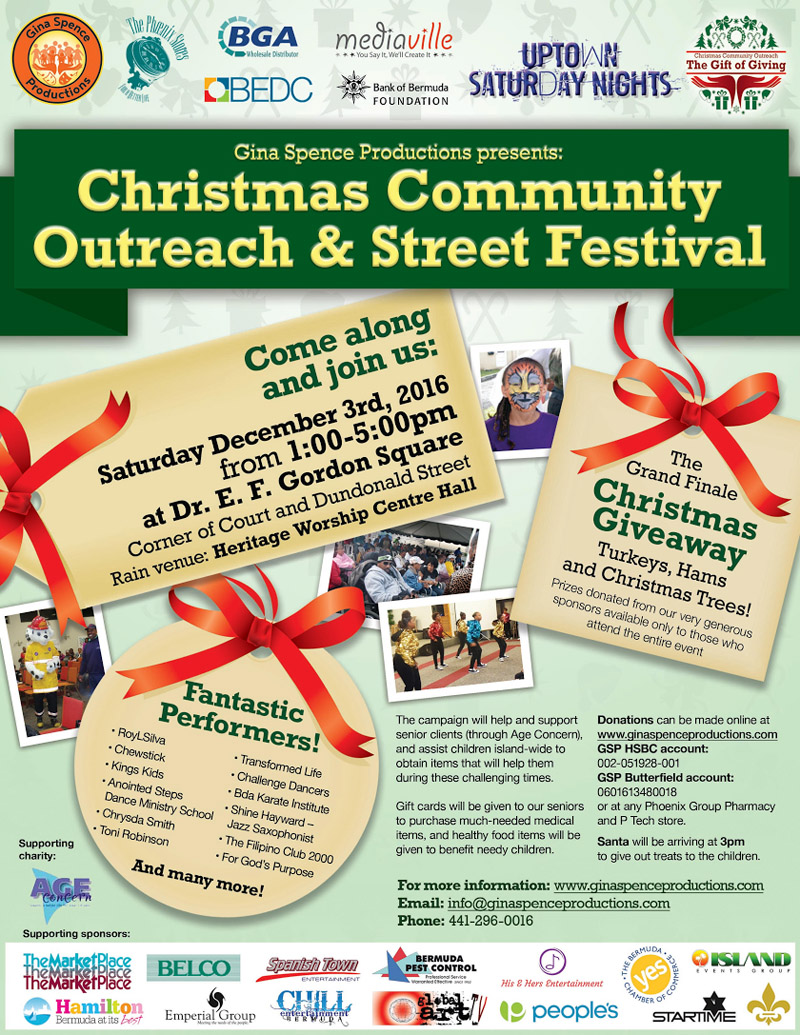 Read More About
Category: All, Entertainment, News