The Minister of Economic Development Dr Grant Gibbons and Permanent Secretary William Francis visited the NASA Headquarters in Washington DC last week as part of a mission to promote Bermuda's space and satellite business programme.
Minister Gibbons met with the Administrator, the Head of the U.S. Space Agency, Maj. Gen. Charles Frank Bolden, Jr., [USMC-Ret.] and the Deputy Administrator, Dr. Dava Newman and Mr. Al Condes from the Office of International and Interagency Relations.
Mr William Francis, Maj. Gen. Charles Frank Bolden Jr. and Minister Dr Grant Gibbons.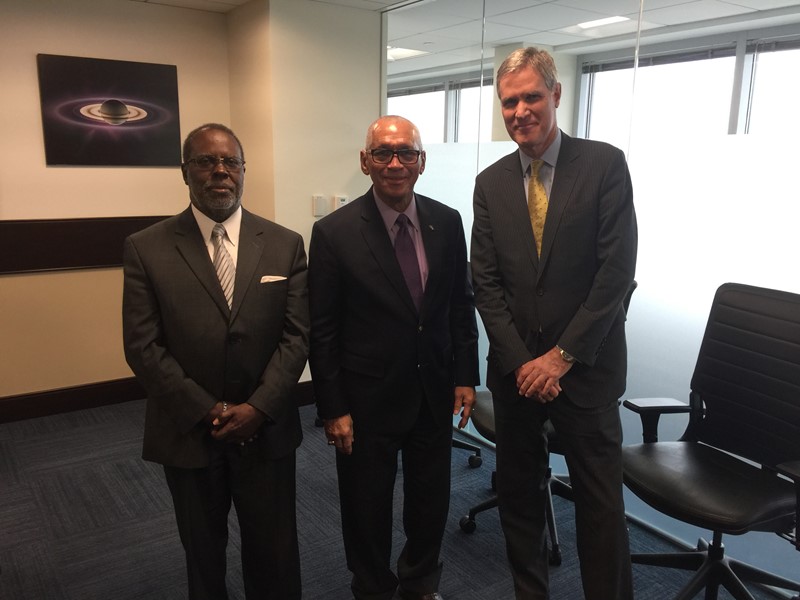 Minister Gibbons and General Bolden discussed the long standing Bermuda-NASA relationship, extending back to the early 1960's, including John Glenn's historic orbital flight in 1962.
He noted the vital role that the NASA Cooper's Island facility played in providing down-range tracking capabilities for the Mercury, Gemini and Apollo manned space flight missions. The Minister also shared that several Bermudians who worked at the NASA facility were still very active in promoting the history of Bermuda's involvement and had created a website.
Bermuda currently has an agreement with NASA for the deployment of NASA's mobile tracking facility in Bermuda to support their current launch programme.  NASA is also in discussion with the Government for a more permanent facility located on Cooper's Island adjacent to the original buildings.
General Bolden took the opportunity to discuss two Agency programmes open to international students, including Bermudians:
NASA's International Internship Program [NASA I2] a programme for international interns [university undergraduate level student] or fellows [university graduate level student]; and
The NASA International Space University [ISU], which develops the future leaders of the world's space community by providing interdisciplinary educational programs to students and space professionals in an international, intercultural environment.
Minister Gibbons noted that in 2014, he, on behalf of the Bermuda Government, and former U.S. Consul General Bob Settje, had signed an agreement with NASA opening the door for local Bermudian students to participate in NASA's Global Learning and Observations to Benefit the Environment [GLOBE] programme.
Slideshow of photos taken by NASA over the years showing Bermuda from space:
.
The GLOBE programme, is a world-wide hands-on, primary and secondary school-based science education programme. GLOBE's vision promotes and supports students, teachers and scientists to collaborate on inquiry-based investigations of the environment and the Earth system.
This occurs with NASA and other US federal agencies that support science research and innovation. GLOBE represents a joint effort between the National Aeronautics and Space Administration [NASA] and the US Government, and the Bermuda Ministry of Education. The GLOBE Partner Network also includes other participating countries, schools and universities.
During the meeting, Minister Gibbons took the opportunity to extend condolences on behalf of the Government and people of Bermuda on the recent passing of Senator John Glenn, who was the first American to orbit the earth in 1962 and the fifth person to venture into space. Minister Gibbons also extended an invitation to General Bolden to visit Bermuda next year for the America's Cup.
While in Washington, Minister Gibbons and PS Francis held meetings with a number of new space and satellite companies to promote Bermuda as a jurisdiction for satellite network administration, space business and risk management.  In addition, they held meetings with some existing space business partners, including SES, Echostar and SpaceX.
Read More About