Two men have been found guilty of shooting and robbing millionaire businessman Timothy Mardon, who splits his time between Bermuda and the UK, in his Essex home.
A Mirror article said, "The men targeted Timothy Mardon after mistakenly believing the insurance company president was using his Georgian, grade II-listed property as a large-scale cannabis factory.
"Mr Mardon, 51, heard the raiders breaking into The Old Rectory in the leafy Essex village of Sible Hedingham and phoned 999, telling police in a hushed whisper of the ordeal – reminiscent of Guy Ritchie's 1998 crime caper starring Vinnie Jones.
"Armed officers were scrambled but were unable for reach the scene for more than 40 minutes and the petrified businessman – who locked himself behind a bedroom door – was blasted in the leg with a shotgun.
"The horrific ordeal was captured on a dramatic audio recording, including the shocking moment gunman Charlie Simms counted down from 10, telling Mr Mardon he would kill him unless he told them where the safe was."
Photo of the two convicted men, courtesy of Maldon Standard: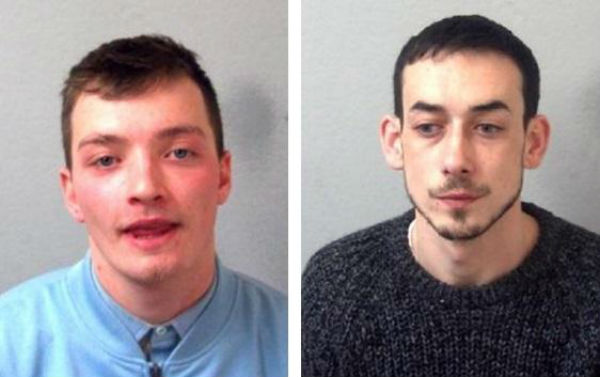 An Insurance Business story said, "After an eight-week trial, two men have been found guilty of a raid in which a 'highly paid" insurance executive was brutally attacked in his £3million mansion, shot and "left for dead".
"The two men, who will be sentenced the week beginning January 23, are facing a "very substantial sentence" following the events at the victim's home, Judge David Turner QC said.
"Gunman Charlie Simms, 22, of North Road, Great Yeldham, was found guilty of attempted murder, aggravated burglary and possessing a fire arm with intent to endanger life, and Christopher Bergin, 28 of Hawkwood Road, Sible Hedingham, was convicted of aggravated burglary, wounding with intent and possessing a firearm with intent to endanger life, Suffolk Free Press reports."
Read More About