Local artist Jill Amos Raine presented Kemda Bean of Somerset with a late Christmas present yesterday – a copy of Bermuda's Top 10; A Guide to the Island's Wildlife and a limited edition print of the State House in St. George's, painted by Ms Raine herself.
Ms Bean was the winner of a Top 10 Christmas competition and was thrilled to receive her prize at Ms Raine at her St. George's home.
Ms Raine said, "This was a very special prize. Kemda won our wildlife travel guide and was excited to find out more about the birds, fish, plants and habitats of our beautiful island."
The print of the State House that Kemda also won is a collector's item with a print run of just 388. It was produced to commemorate Bermuda's World Heritage Site status.
Ms Raine added, "Having received her prize, Kemda was going to stop in St George's where the original of the print was painted and have a good look round."
Ms Bean receiving her prize from local artist Jill Raine, who is pictured along with her daughter Zylah Bean and family friends, Mercy Azzario and Genesis Azzario.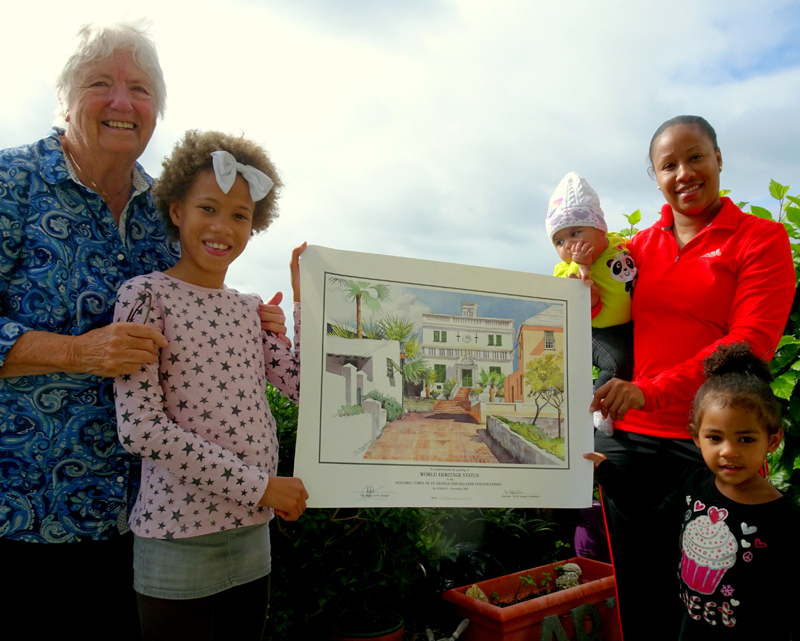 Bermuda's Top 10 was written and illustrated by the Raine family and is a crash course on the common birds, plants and animals that are found in Bermuda.
"Our guide book explains which sea creatures you're going to float past when you're snorkelling; how to spot a glowing green Bermuda Fire Worm; and the best places to look for amazing wildlife in your own backyard," Ms Raine said.
"I know that Kemda and her family will have fun learning more about Bermuda's natural treasures."
To find out more about the book visit toptenwildilfe.com – it is available in select local stores and on Amazon.

Read More About
Category: All, Entertainment