[Updated] "Bermudians should expect the country's leader to show concern and fix the problems, and not engage in political point scoring on Facebook," Shadow Minister Lawrence Scott said, adding that even if the airport plan passed Parliament tomorrow, the existing airport must operate for four more years so "unless the Premier thinks we won't have another downpour during that time, we advise that he devote his energy to fixing those leaks."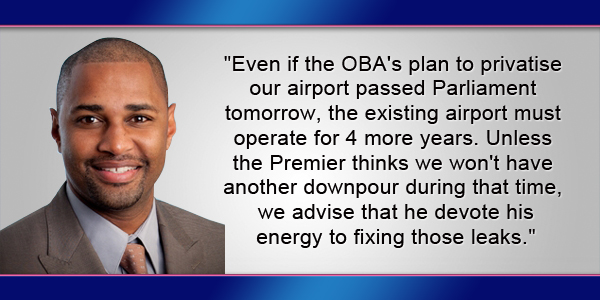 Premier Posts Airport Video On Social Media
Mr Scott's comments follow after Premier Michael Dunkley posted videos showing the airport on social media yesterday, with his post saying, "It is totally unacceptable that people have to work in this environment!
"In addition, imagine arriving at the airport today to this mess and getting wet [drenched!] departing or boarding a plane.
"The new airport terminal is badly needed so Bermuda let's rally together and build it providing opportunity, jobs and careers for our people during construction and the on- going operation of the airport!"
Shadow Minister Lawrence Scott's Comments
Mr Scott said, "The videos shared by the Premier on social media make it clear why so many Bermudians are looking forward to a change of leadership at the next election.
"While Bermudians work in less than ideal conditions, the Premier decided the best use of his time was to use social media to share videos of leaks at our airport during a torrential downpour to push the OBA's airport privatisation.
"Bermudians should expect the country's leader to show concern and fix the problems, and not engage in political point scoring on Facebook.
"Even if the OBA's plan to privatise our airport passed Parliament tomorrow, the existing airport must operate for 4 more years.
"Unless the Premier thinks we won't have another downpour during that time, we advise that he devote his energy to fixing those leaks to ensure our staff, tourists and residents can safely use the LF Wade International Airport."
Premier's Office Responds
Update 2.22pm: In response, a spokesperson said, "Premier Michael Dunkley endeavors to be as open and accessible as possible to better listen and serve Bermuda.
"He has a significant presence on social media, which often drives more of the conversation on the Island than traditional media. The Premier yesterday decided to share directly with people on Facebook a video that highlighted the failing Airport terminal building and the urgent need for improvements.
"He will continue to use every resource to communicate with Bermudians. It should be noted that the Opposition member's comments about privatization are incorrect."

Read More About