"Differences of opinion will always occur, but for the sake of Bermudian businesses and Bermudian jobs, we need to find a better way to solve problems and create solutions," President of the Chamber of Commerce John Wight said today.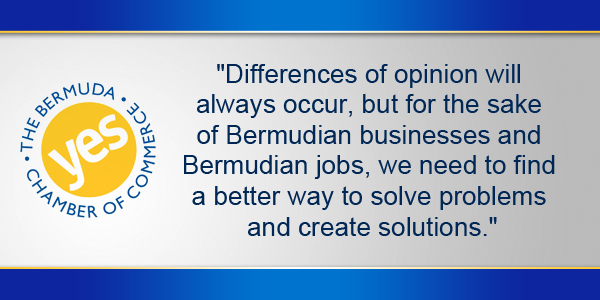 Mr Wight said, "2016. A successful year it was for Bermuda in many ways. Meaningful metrics such as gross domestic product and tourist arrivals were reported as improving. This was welcome news for members of the Chamber of Commerce after several years of very challenging times.
"Now 2017 is upon us and we are not out of the woods yet. Not by a long shot. We need to find a better way to solve problems and create solutions. Many of our businesses operate from week to week and they are vulnerable to any disruption.
"We can't underestimate the importance of stability to economic and financial success for all Bermudians. We want Bermudians and Bermudian businesses to have every chance to prosper.
"The current disruptions to public transit are affecting employees getting to work and children to schools. This impacts local businesses directly. We need stability not just to maintain jobs but to create new jobs for Bermudians.
"In today's media world, everyone is able to view these disruptions. This is not good for Bermuda. We will have the eyes of the world upon us in May and June for the America's Cup.
" Let's not lose sight of the pride we will all have when we can showcase all that is special about Bermuda; our people, our friendly nature, the beauty of our island.
"The current dispute threatens all of this and fosters a sense of uncertainty. Differences of opinion will always occur, but for the sake of Bermudian businesses and Bermudian jobs, we need to find a better way to solve problems and create solutions."
Read More About