The Bermuda Health Council said they have noticed "an increase in employers who are not providing their employees with health insurance coverage" saying there are currently "46 non-compliant employers, affecting 261 employees and non-working spouses".
Ian Cameron, Compliance Officer, states: "The increase in non-compliant employers is concerning because health insurance provides access to healthcare. At a time when Bermuda is seeing an increase in chronic diseases in patients, this access becomes vitally important.
"These employees are having to pay out-of-pocket or are not receiving adequate and necessary healthcare because they cannot afford it. It is also illegal to deduct money from an employee's pay check for health insurance and not use that money to purchase health insurance for that employee."
BHeC said, "The Health Council monitors and enforces compliance with Section 20[1] the Health Insurance Act 1970. The Act requires every employer to provide health insurance for employees and non-employed spouses of employees. There are situations in which employers are exempt from having to provide health insurance such as when employees:
Work 15 hours or less weekly
Are employed for 2 months or less
Are students employed during weekends, public holidays or half term holidays
"The Health Council also requires local insurers to provide monthly updates of companies who have inactive health insurance policies as summarized in the chart below.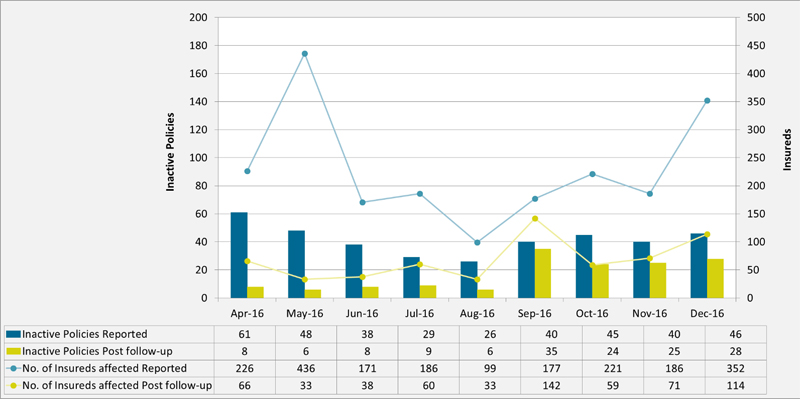 BHeC posted a list of 'Non-Compliant Employers' on their website, which they said will be "updated in real time as employers provide evidence of an active health insurance policy which is verified by the insurer."
"If you have evidence that a business has been printed in error, or if you would like to enquire about your rights in regards to health insurance, please contact the Health Council by emailing healthcouncil@bhec.bm or calling 292-6420," BHEC added.

Read More About