Last week, Premier Michael Dunkley concluded his UK visit with a stop at No. 10 Downing street for a Courtesy Visit with British Prime Minister, Theresa May. Premier Dunkley was joined at No. 10 by other Overseas Territories leaders.
Premier Dunkley and OT leaders were in London much of last week for the UK Joint Ministerial Council on European Negotiations [JMC - EN].
Premier Michael Dunkley's visit to No. 10 Downing Street last week to meet with British Prime Minister Theresa May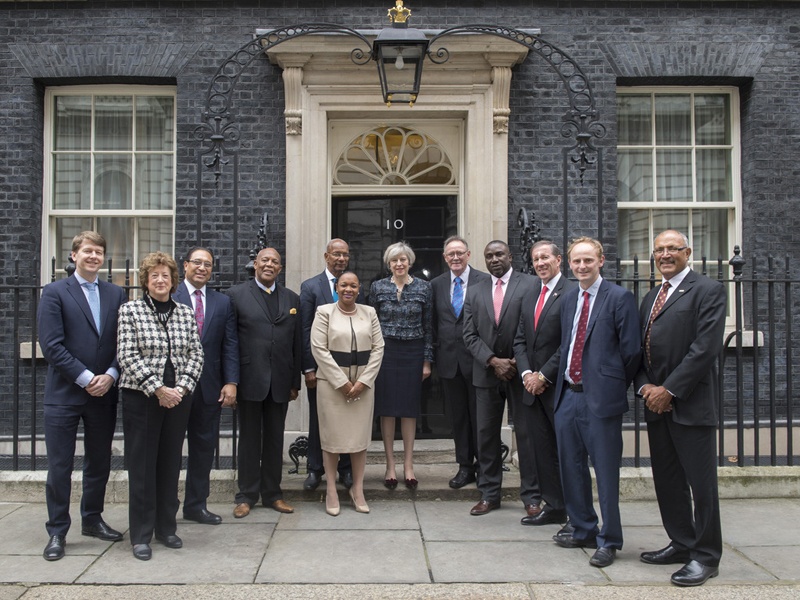 During the February 8th visit to No. 10, the OT delegation also attended a meeting with Home Office Minister Ben Wallace to address amendments made to the Criminal Finance Bill.
The legislation, which is being put forward by the Labour Opposition, is seeking to impose public central registers of Beneficial Ownership Information in the Territories. The Premier noted that the discussions regarding the Bill had "passionate and robust" input from all OT leaders.
Last week's JMC – EN discussions were chaired by Foreign Office Minister Baroness Anelay and the Minister for Exiting the European Union, Robin Walker.
Territories represented included Anguilla, Bermuda, British Virgin Islands, Cayman Islands, Falkland Islands, Montserrat, Pitcairn Islands, St Helena and Ascension Island, Tristan da Cunha and Turks and Caicos Islands.
While in the UK, Premier Dunkley was accompanied by the Deputy Premier and Minister of Finance Bob Richards and the Secretary to the Cabinet, Dr. Derrick Binns. The London visit was facilitated under the direction of Kimberley Durrant, UK Representative and Director of the London Office.

Read More About