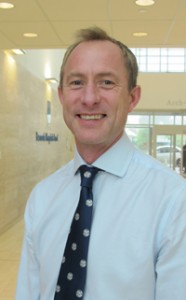 Hundreds of nephrectomies [removal of kidney] have been performed in Bermuda over the years, however the Bermuda Hospitals Board [BHB] said they have now recorded the first case of a patient having the procedure done laparoscopically.
A spokesperson said, "Urologist Dr Gordon Kooiman joined BHB last December. A specialist not only in urology but also laparoscopic surgery, he quickly received a referral from another local urologist.
"43-year-old Elizabeth DeSilva said she wasn't in pain, but when she learned that her left kidney "was completely filled up with large stones" her urologist told her it would be best to have it removed."
"He [her urologist] called me up and said I should get a second opinion from Dr Kooiman at the hospital," said Mrs DeSilva.
"My urologist explained that if he did the surgery I would have a scar about 12-inches long but that Dr Kooiman might be able to do it where the scar would be much smaller."
"Mrs DeSilva said after meeting Dr Kooiman, she and her husband opted for him to remove her kidney laparoscopically."
"He was a really wonderful doctor," she said. "He made both my husband and I feel at ease with the surgery he was going to perform. He was really warm and friendly."
"A mother of three and grandmother of two, Mrs DeSilva said her entire family was concerned about her health."
"And I was very nervous," she added
"She had the nephrectomy on 15 December 2016."
"I was fine when I came out," she said, "although I was sore. It took some time, but I eventually felt better."
Dr Kooiman said, "Removing a kidney via the laparoscopic [keyhole or minimally invasive] approach is available in most urology centres world-wide.
"Three or 4 small 5-10mm wounds allow a camera and thin, long instruments to be used to free the kidney from the surrounding structures. The kidney is then removed by extending one of the small wounds.
"Because the main wound is smaller, laparoscopic nephrectomy is associated with less post-operative pain, quicker discharge from hospital and quicker return to work."
"In the case of Mrs DeSilva she spent only 4 days recuperating in the Acute Care Wing compared with a likely stay of 7-10 days if she had undergone open surgery.
"If you would like more information on laparoscopic nephrectomy contact Dr Kooiman's office on 239-5908 or email Gordon.Kooiman@bhb.bm."

Read More About