On Tuesday, BHS hosted their first ever St. Baldrick's fundraising event, with 34 Primary students, three Secondary students, three staff members and five parents shaving their heads and / or donating their hair to Locks of Love.
The  initial fundraising goal of $15,000 has been surpassed, with the event collectively raising $80,939 as of this writing.
Y9 student Leila Prado led the initiative with help from staff members, saying: "I shaved my hair in 2015 to stand in solidarity for kids with cancer and to raise funds for St. Baldrick's.
"I will never forget my experience. I learned so much about personal courage, and that losing your hair as a teen is not that important compared to what young children battling cancer endure. I learned that being bald really defines that beauty comes from within.
"I am so excited to be leading BHS's first ever St. Baldrick's event!"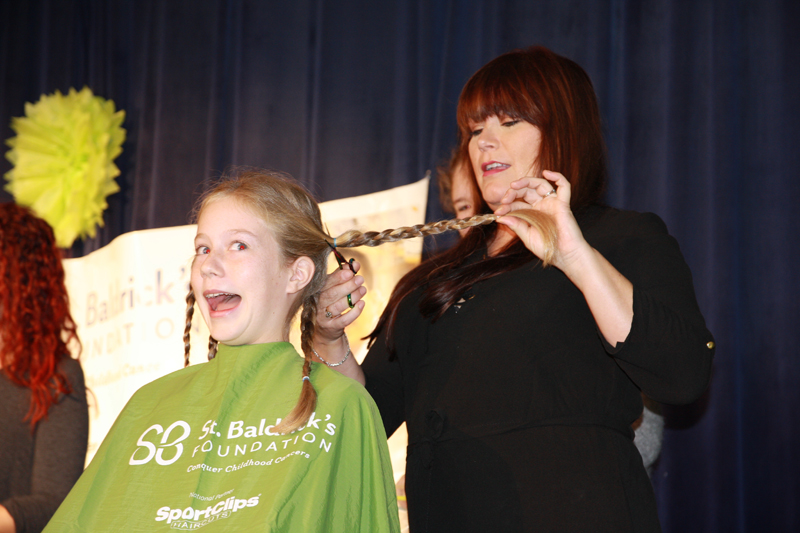 Yesterday morning, in the hall which was filled to capacity with students, staff, parents, family and friends, the girls took to the stage in groups.
The hair stylists teased their hair, chopped off ponytails and buzzed hair away to the loud cheers of support from the audience. Also in the audience was Tara Soares from Bermuda Cancer and Health, Dan Sullivan who started St. Baldrick's on the island, and Susan Heard, an international St. Baldrick's ambassador.
Ms Heard lost her young son to cancer a few years ago and reminded the girls of what an amazing, and important thing they were doing.
"Without your support and funding we're not going to make any progress forward. What you have done is tremendous. I thank you so much. You are giving away so much hope," she said.
Many of the students who participated had been touched by cancer in some way – with a grandparent who had cancer, or a friend of their parent's, and in two cases even closer to them individually; one little girl's mother had survived cancer, and another girl's aunt had also survived cancer, so they each felt a connection to wanting to help and make a difference.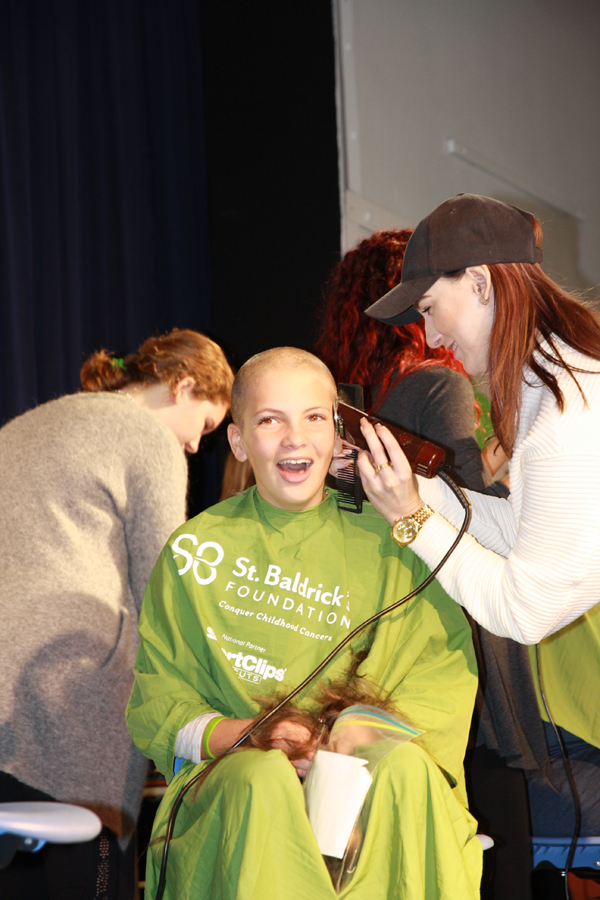 When asked prior to the event if they were nervous about cutting off their hair or shaving their heads, they said they were not.
Julie Veloso, Y5 said, "I'm not nervous because I'm going to be helping someone else" and her friend Elizabeth Wyer, Y5, added, "I'm doing this with my friend Julia, so we'll be doing it together."
Tracy Renaud, a Y6 teacher who helped to run the event, spoke to the girls about how what they are doing is selfless, kind and compassionate and how lucky they were to have each other for support while they made this sacrifice of cutting or shaving their hair.
Ms Renaud also shaved her head this year and says, "I am a past shavee and I have assisted with the organisation of St. Baldrick's events for the past 8 years. Having lost friends and family members of my own to cancer, I understand the importance of finding a cure for this terrible disease.
"As an educator, I find it incredibly satisfying to observe children genuinely wanting to help others. Kindness is one of the most important lessons that we can teach our children.
"Over the years, I have had the privilege of witnessing many children cutting their hair for Locks of Love or shaving for St. Baldrick's. However, this year is particularly special as we have such a large number of girls taking part. They truly are shining stars and exceptionally courageous!"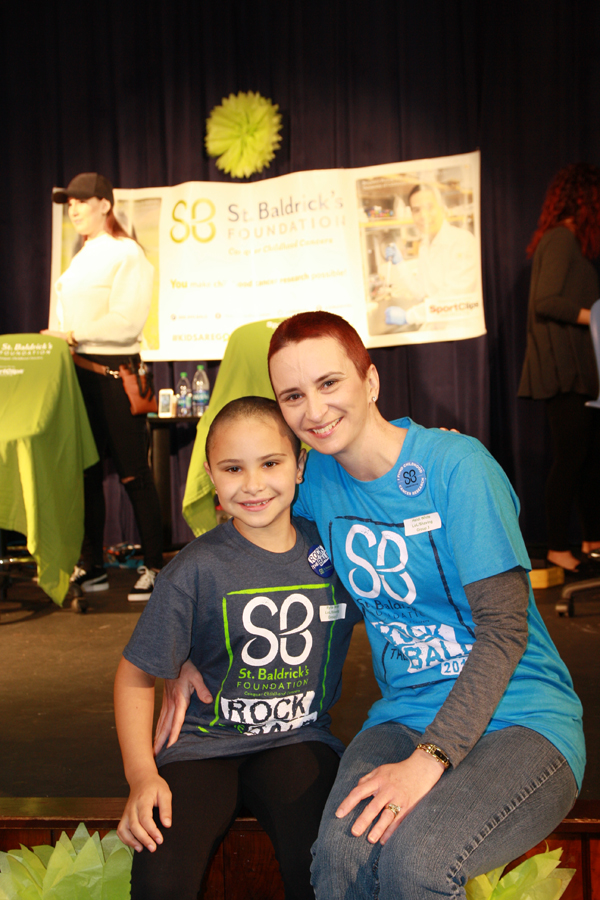 Out of the group, some of the girls had their parents join in the efforts too. Year 6 students Hannah Field-Lament, Amber McHugh, Lily Cornes and Mya Maries all persuaded their dads, Sean, David, James, and Scott to shave their heads.
Rylie White, Y4, and her mom, Heidi White both shaved their heads and donated their hair to Locks of Love. Ms White is an alumna of BHS and when asked why she is doing this, she said, "As this is BHS's first St. Baldrick's fundraising event, coupled with the fact that I am a former student and now a parent at the school, I decided without reservation, that there is no better time to shave my head alongside my daughter Rylie for this very worthy cause.
"It's a small sacrifice for a much larger purpose. I'm very humbled to be able to participate in this charitable cause with my daughter and to contribute in this way to help fund this much needed research."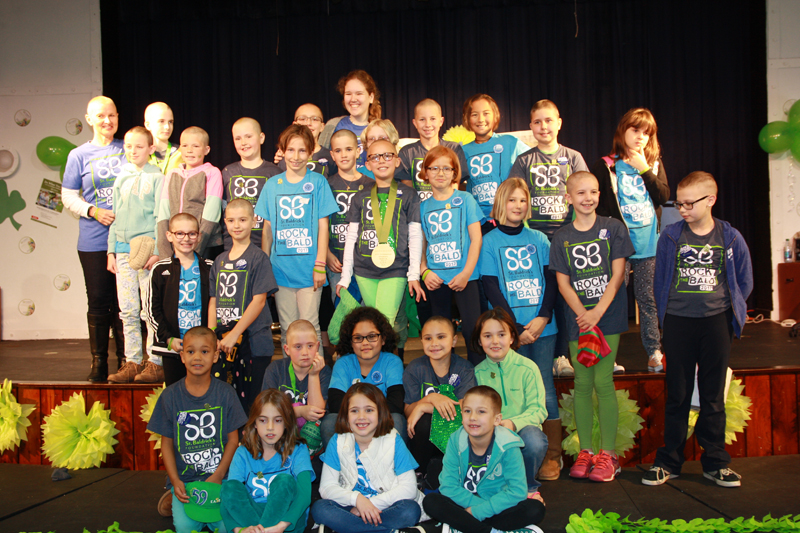 Hair cutting and shaving services on the day were provided by a number of local salons and hair stylists.
Owner of TK Hair Tanju Kurt and stylist Fannan, Tracy Amaral from "Stylz by Traci", Megan Teixeira from Salon Pink, Meghan DeSilva from Blueprint Hair Studio and independent stylist Jennifer Kempe all volunteered their time to this event. Special thanks goes to the "Sunshine Company" for their generous donation of antiseptic spray for tools.
All proceeds raised will go to St. Baldrick's childhood cancer research, and Bermuda Cancer and Health.
BHS said they would like to thank everyone who has donated so far and remind you that if you haven't donated already, you can still do so via the St. Baldrick's website www.stbaldricks.org

Read More About