[Written by Berkeley Institute student Jahzuena Bradshaw-Douglas]
The Berkeley Institute welcomed Chief Justice Ian Kawaley during a visit Tuesday morning to educate and advise aspiring student lawyers.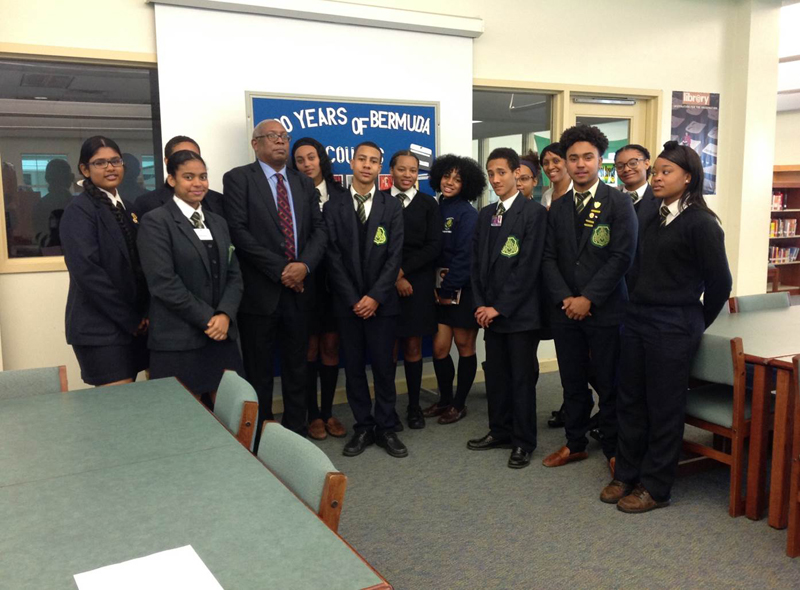 Mr. Kawaley, alumnus of London University, attained his PhD. in law in 1999. Mr. Kawaley then returned to Bermuda to pursue a career in criminal defense, and whilst maintaining a successful career in law he also was able to author and publish a few books.
Through hard work and dedication, Mr. Kawaley was promoted to Chief Justice in April 2012 after being a Judge of the Commercial Court.
"I never actually wanted to be a lawyer," Mr. Kawaley stated. "However my father persuaded me to further my studies in law. I hated the first few months of school, but I can honestly say I have no regrets."
.
The students listened intently as Mr.Kawaley spoke about the beginnings of his career and the rich history of Bermuda's independent legal system.
Mr.Kawaley informed the students about a few of Bermuda's most famous cases and people in law ranging from John Wood who was the first criminal trial in Bermuda for drunkenly threatening the Governor, Sally Basset who was suspected of poisoning her master and mistress, she was then sentenced to death by being burnt alive on Crow Lane. The evolution of law in a time span of 400 years has truly been astounding for our island.
Julian Hall, a renowned lawyer for his brilliance and charismatic nature, was Mr. Kawaley's  biggest role model.
With our young generation taking an interest in law, there is no doubt Bermuda's legal system will only continue to grow. Mr.Kawaley is a great role model for young students all over the island wanting to pursue law or other judicial careers.
Photos by student photographer is Zamar White, click to enlarge:

Read More About