Deputy Premier and Minister of Finance Bob Richards today advised that Standard & Poor's [S&P] has affirmed Bermuda's rating at A+ and maintained our outlook at stable, and said he welcomed the ratings notification on Bermuda published by S&P.
"Key drivers stated as the reasons for the affirmation are effective and predictable policymaking and a high GDP per capita," explained Minister Richards.
"The Ministry of Finance, and the Government as a whole, has been working diligently to communicate and implement credible fiscal plans and it is pleasing that S&P has recognized this and affirmed Bermuda's ratings.
"It is rewarding to see our sovereign rating affirmed at A+, especially when ratings agencies have been extremely cautious, as evidenced by the ongoing downgrades of several countries."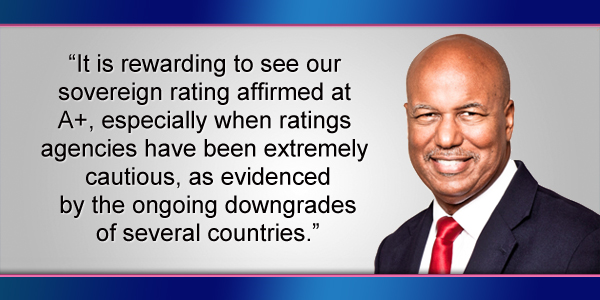 "The stable outlook reflects S&P's expectation that Bermuda's economy will grow in the next two years, which in turn will assist with the country's deficit reduction efforts. This is in line with the Ministry's projections announced in the 2016/17 Budget.
"The S&P affirmation reflects its confidence in the Government to grow Bermuda's economy and put us back on the road to success."
In closing the Finance Minister said, "The S&P ratings update report is very positive news as the Government remains on track to eliminate the deficit by 2019/20.
"This report is further evidence that our policies are bearing fruit. With our practical and measured approach, the future of Bermuda is looking much brighter for all."
Read More About