The Bermuda Underwater Exploration Institute [BUEI] is getting set to screen two films 'Frantz' and 'Tommy's Honour' on Sunday, May 21 on screen at the BUEI Tradewinds Theatre.
Trailer for Frantz:
The event poster says, "Set in Germany and France in the immediate aftermath of the First World War, [1914-1918], Frantz recalls the mourning period that follows great national tragedies as seen through the eyes of the war's "lost generation": Anna, a bereft young German woman whose fiancé, Frantz, was killed during trench warfare, and Adrien, a French veteran of the war who shows up mysteriously in her town, placing flowers on Frantz's grave. Adrien's presence is met with resistance by the small community still reeling from Germany's defeat, yet Anna gradually gets closer to the handsome and melancholy young man, as she learns of his deep friendship with Frantz, conjured up in evocative flashbacks.
Trailer for Tommy's Honour:
"Tommy's Honour is based on the powerfully moving true story of the challenging relationship between "Old" Tom and "Young" Tommy Morris, the dynamic father-son team who ushered in the modern game of golf. As their fame grew, Tom and Tommy, Scotland's Golf Royalty, were touched by drama and personal tragedy. At first matching his father's success, Tommy's talent and fame grew to outshine his father's accomplishments and respect as founder of the Open Championship in 1860 with a series of his own triumphs. But in contrast to Tommy's public persona, his personal turmoil ultimately led him to rebel against both the aristocracy who gave him opportunity and the parents who shunned his passionate relationship with his wife."
Tickets cost $15 for adults and $10 for students, and are available by calling 294-0204 or visiting BUEI's Oceans Gift Shop.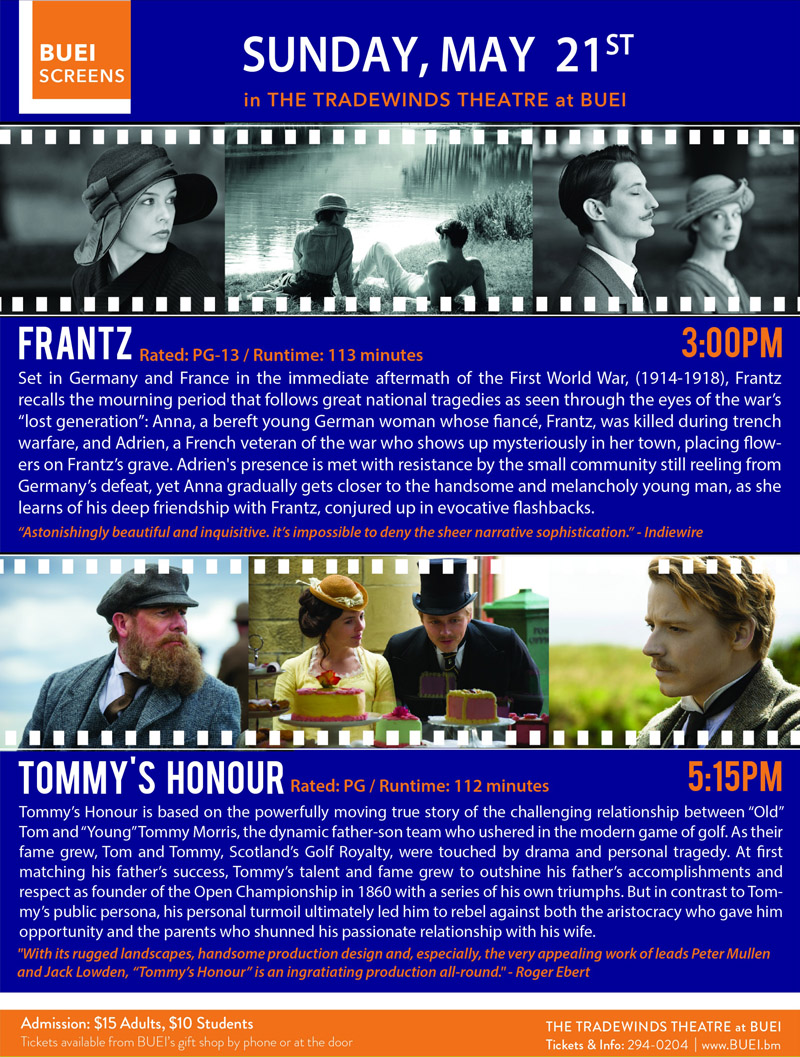 Read More About
Category: All, Entertainment, Films/Movies