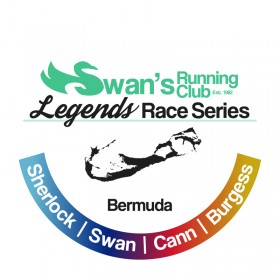 The final race of the Legends Race Series — the Sir Stanley Burgess 5K — will take place this Sunday [May 7] starting from Police Recreation Club.
This race will decide who will be crowned as the first "Legends" winner. As this is a fast race and double points will be given, this will be a highly contested race.
A spokesperson said, "Swan's Running Club is celebrating 35 years of road running in Bermuda. As part of our celebration, the club launched the inaugural Legends Race Series this year.
"We felt it timely that the last race of the race series be in May as we celebrate this year's Heritage Month theme "Our Sporting History."
"The Legacy Race Series consisted of four races that celebrate our club members and some of Bermuda's road racing heroes; Ed Sherlock , Raymond Swan, Ludwig Cann, and "Sir" Stanley Burgess.
"The participants in the Race Series have been accumulating points based on their finishing place. The male and female participant who has accrued the highest points in the best 3 out of four races, will be crowned Legends champion. There are also prizes for overall winner in each age category.
"This Sunday, the Sir Stanley Burgees Race, is the fourth and final race of the series. This race is the most exciting race as double points can be earned and it is a fast 5K race. Therefore, those that are at the top of the point standings will have to place high so that they can ensure that their point margin is enough to be crowned the race series "Legend".
"Swan's Running Club salutes BGA who is the title sponsor for the Legends Race Series. We will be improving the series of races next year and working to keep the road running legends history alive. We encourage all road runners to participate again next year and take the challenge to become a Legends Race Series champion!
"Swan's Running Club membership is open to residents of Bermuda of all ages. We pride ourselves in meeting people's needs at whatever activity level they are at. We provide training from a qualified coach and also provide support and mentoring. The Club also has Fitness Walkers."
Series Leaderboard: Male Results
| | | | | | |
| --- | --- | --- | --- | --- | --- |
| | Name | Gender | Age | Hometown | Points |
| 1 | Tim Price | M | 26 | Smiths, BM | 75 |
| 2 | Kavin Smith | M | 50 | Pembroke, BM | 51 |
| 3 | Chefton Hall | M | 33 | Pembroke, BM | 33 |
| 4 | Steven McGuinness | M | 32 | Devonshire, BM | 30 |
Series Leaderboard: Female Results
| | | | | | |
| --- | --- | --- | --- | --- | --- |
| | Name | Gender | Age | Hometown | Points |
| 1 | Laura Wright | F | 33 | Smiths, BM | 75 |
| 2 | Andrea Luber | F | 37 | Warwick, BM | 33 |
| 3 | Anna Laura Hocking | F | 38 | Hamilton, BM | 33 |
| 4 | Sheikia Ming | F | 32 | Hamilton, BM | 29 |

Read More About