Gina Spence Productions is getting set to present their 6th annual celebration for fathers starting with our Father's Day Proclamation to be read on the steps of City Hall on Friday, June 16, 2017 at 5:30 pm by Premier Michael Dunkley.
The proclamation along with speeches on Fatherhood from Outstanding Father's in the community.
This event is a salute to fathers, dubbed 'We Love You Dad', to celebrate thank and pay tribute to the significant contributions Fathers make in the lives of their children, families and communities.
A spokesperson said, Aattendees can also give donations to our 'Champions Program,' the first of its kind for victims and their families, which provides educational scholarships, school uniforms, counseling, and healthy food items for children who have lost their Fathers and are left behind from gun violence and homicide in Bermuda."
"There will be a donation table and a "We love you Dad" tribute box to give the community an opportunity to write a tribute in memory of their Fathers who have passed.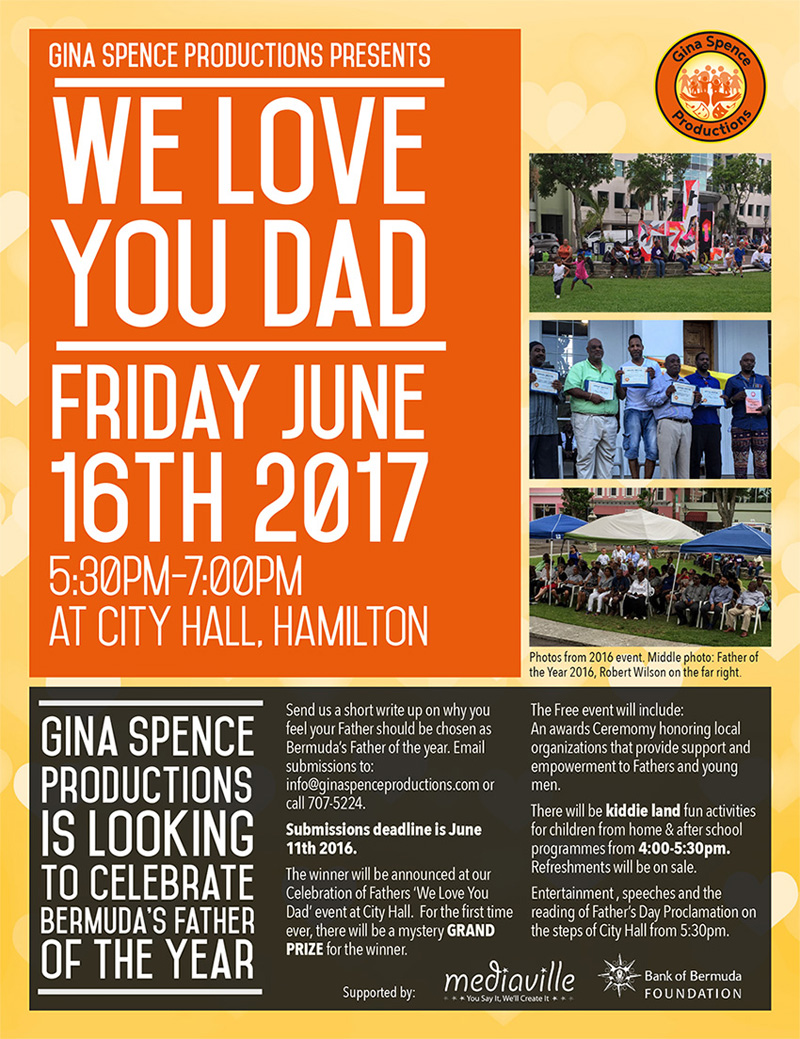 "On Father's Day GSP will gather the tributes and pray for those families in remembrance of their Fathers. This year we have invited The Department of Youth & Sport After-School programs to submit banner projects with 'We Love You Dad" themes. Prizes will be given to 1st, 2nd and 3rd place winners. We will also have a [WLYD] selfie station for children to take photos with their Fathers to post on social media.
"The event is free and we invite the whole family to come out to enjoy activities for children. There is a special kiddy corner, including fun castle and face painting where children can get their Fathers names and heart designs by our artist. Refreshments will be on sale. We are asking people to bring a chair or blanket to enjoy the open-air event on the lawn at City Hall.
"The event will include an awards presentation honoring local organizations that provide support and empowerment to fathers and young males, this year's awardees include Beyond Rugby Bermuda, Kappa Classic, and Royal Bermuda Yacht Club.
"There will also be performances by Lady Tyson, Jazz saxophonist Calvin Simons, Kings Kids and Gombeys.
"The sponsors of the Celebration of Fathers "We Love You Dad" include Bank of Bermuda Foundation, Butterfield & Vallis, MenCo, Mediaville, Nutura Spa, Coco Reef Resort, International Sports Shop, Curve Bakery, Lambert and Lambert Rentals, Orchid Spa, Ricky's Barber Shop and Friends of GSP.
"For more information, please visit us online, email info@ginaspenceproductions.com spencegina63@gmail.com, or call 707-5224."
Read More About
Category: All, Entertainment