The Minister of Health and Seniors Jeanne Atherden today presented awards to those who participated in the 2017 Healthy Schools programme.
'The Healthy Schools Awards focuses on schools that consistently promote health to their students and staff. This year, schools demonstrated that they consistently implemented five categories of health specified by Healthy Schools to demonstrate a high level of compliance to school health policies and health-related Bermuda Laws," the Ministry said.
"This year, 24 of 31 public and private primary, middle and senior schools submitted their Healthy Schools Component presentations or binders. Each school received three to five Gold Stars and has been designated as a Health Promoting School.
"Also chosen were forty individuals who were nominated as Health Champions by their schools; twenty-nine principals who have been recognized for promoting health in their schools; fourteen outstanding Department of Health service providers nominated by their programme managers; five community health partners; seven outstanding students; and twenty-one Water-Only schools and preschools. Of note, the number of government schools advocating a Water-Only Policy or Practice increased from 13 to 22."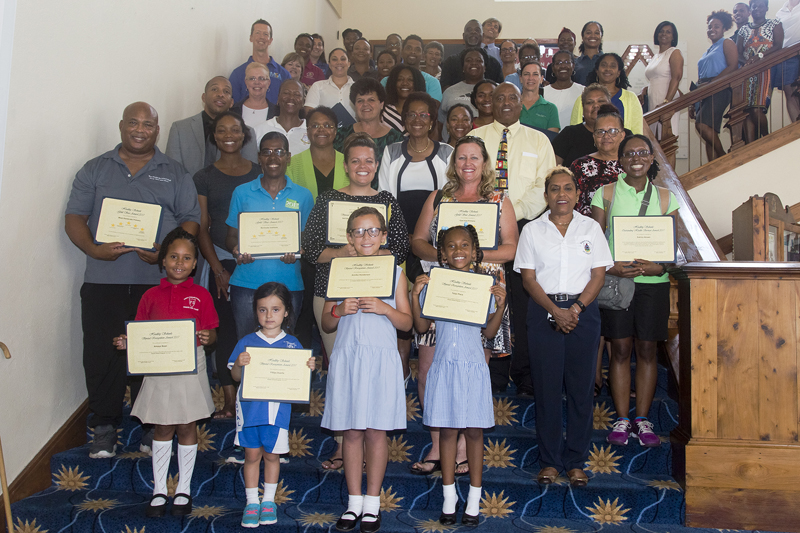 Minister of Health and Seniors Jeanne Atherden said, "Good afternoon, educators, healthcare professionals, colleagues, students and guests.
"Again this year, I am honoured to be here to acknowledge your schools' participation in the Healthy Schools Programme.
"Together, the Ministries of Education and Health and Seniors realize that the Healthy Schools programme is a vital link between education and health. In addition, our Ministries and our community health partners have a common goal: ensuring that our school students are healthy and positioned for success.
"Our strategy for a Well Bermuda targets every age group across the life course. A large portion of a child's growth takes place while he or she is a student, so schools are the perfect place to teach important lessons about the relationship between nutrition, health and wellness. We know that when students are healthy, they are better able to achieve their potential.
"Schools, I want you to know that you are well on the way to helping your students establish lifelong healthy habits that will allow them to become viable and healthy members of our society, and I want to congratulate you all on your outstanding achievements!
"The Healthy Schools Programme recognizes that the culture and philosophy of each school is unique and that each school interacts with its community in different ways as it promotes health.
"Healthy Schools uses the U.S. Centres for Disease Control and Prevention's 10-Component Model, which places the student at the centre of many social influences that affect a child's development and adoption of lifelong habits. These components enable Healthy Schools to standardize what health looks like in schools through school health policies and Bermuda laws.
"Today, we celebrate and recognize the schools that have consistently promoted health to their students, staff and communities – all while delivering academics! Through the ten components of health, the assessment process standardizes health in schools.
"Last year, we recognized schools through the Gold Star Awards for One Component. This year, school's submitted demonstrations for the first Five Components.
"This year, a total of 24 of 31 public and private, primary, middle and senior schools were reviewed. Those schools will be recognized here today as we celebrate all school health promotion activities. Each school received a Gold Star Award of Achievement and has been designated as a health promoting school.
"In addition, 39 individuals were nominated as Health Champions by their schools and all school principals have been recognised for their consistent support of Health Promotion in their schools. In addition, 18 outstanding Department of Health school-based staff have been nominated by their program managers.
"Furthermore, this year, the number of government schools advocating a Water-Only Policy or Practices increased from 13 to 22! While Healthy Schools has always promoted water as the healthiest beverage choice, over the years, schools have chosen to implement their own water-only policies or practices.
"These schools promote the consumption of water as the only beverage on campus and / or allow their students to sip water in the classroom throughout the day. Students are allowed to keep reusable water bottles on their desks and / or make frequent visits to filtered water fountains.
"And now, the Permanent Secretary of Education, Mrs. Valerie Robinson-James, and I will present to you the recipients who earned Health Champion Awards; Health Promoting Awards; Special Recognition Awards; and Healthy Schools Gold Star Awards."
Healthy Schools Programme
1. In alphabetical order is the winner of the 2017 Three Gold Star Awards for demonstrating compliance of 3 of 5 Healthy Schools Components:
2. In alphabetical order are the winners of the 2017 Four Gold Star Awards for demonstrating compliance of 4 of 5 Healthy Schools Components:
Clearwater Middle School
Dalton E. Tucker Primary
Dellwood Middle School
Gilbert Institute Primary
Harrington Sound Primary
Heron Bay Primary
Northlands Primary
Purvis Primary
Sandys Secondary Middle School
Somerset Primary
West End Primary
3. In alphabetical order are the winners of the 2017 Five Gold Star Awards for demonstrating compliance of 5 of 5 Healthy Schools Components:
Berkeley Institute, The
Bermuda High School for Girls
Bermuda Institute
CedarBridge Academy
East End Primary
Francis Patton Primary
Mount Saint Agnes Academy
Prospect Primary
Somersfield Academy
St. David's Primary
Victor Scott Primary
West Pembroke Primary
4. School Principals we recognized for ensuring that theirs was a Health Promoting School:
Dr. Phyllis Curtis-Tweed of The Berkeley Institute
Mrs. Linda Parker of Bermuda High Schools for Girls
Dr. Lois Tucker of Bermuda Institute
Mrs. Kalmar Richards of CedarBridge Academy
Ms. Keisha Douglas of Clearwater Middle School
Ms. Tajuana Dean of Dalton E. Tucker Primary
Mrs. Joy Todd of Dame Marjorie Bean Hope Academy
Mrs. Tina Duke of Dellwood Middle School
Ms. Julie Foggo of East End Primary
Ms. Kimberly Creighton of Elliot Primary
Mrs. Garita Coddington of Francis Patton
Mrs. Coraleta Dill of Gilbert Institute Primary
Mrs. Cindy Weeks of Harrington Sound Primary
Mrs. Cindy Lambert of Heron Bay Primary
Mrs. Sue Moench of Mount Saint Agnes Academy
Mr. Charles Joynes of Northlands Primary
Mrs. Idonia Beckles of Paget Primary
Ms. Joann Dill of Port Royal Primary
Mrs. Holly Richardson of Prospect Primary
Mrs. Judith Alexander of Purvis Primary
Mr. Kenneth Caesar of Sandys Secondary Middle School
Mr. Carlos Symonds of Somersfield Academy
Mr. O'Brien Osborne of Somerset Primary
Mr. Gladstone Thompson of St. David's Primary
Mrs. Francine McMahon of T.N. Tatem Middle School
Mr. Stephen Coddington of Victor Scott Primary
Mrs. Trina Cariah of West End Primary
Mrs. Opal Wilson of West Pembroke Primary
Ms. Reeshemah Swan of Whitney Institute Middle School
5. The Nominated Health Champions for each school are as follows:
Berkeley Institute, The

Dr. Marcia Henry-Young
Ms. Rhonda Rawlins
Mrs. Nadia Robinson
Ms. Tiannia Symonds

Bermuda High School for Girls
Bermuda Institute

Mrs. Janet King
Ms. Gina Richardson
Ms. Cynthia Tucker
Mrs. Joan Goulbourne

CedarBridge Academy

Mrs. Melanie Burrows and Mr. Stuart Crockwell

Clearwater Middle School
Dalton E. Tucker Primary

Mrs. Shantae Burrows
Mrs. Wolette Selassie

Dellwood Middle School

Ms. Nishanti Bailey and Ms. Kim Manderson

East End Primary
Elliot Primary
Francis Patton Primary

Mrs. Florence Sharpe-Trott

Gilbert Institute
Harrington Sound Primary

Mrs. Carolyn Conway and Mrs. Kristen Johnston

Heron Bay Primary
Mount Saint Agnes Academy

Mrs. Kim Raymond
Mr. Josh Hart
Ms. Alexandria Rego

Northlands Primary

Mr. Quincy Aberdeen
Ms. Mary-Beth Aitken
Ms. Denise Hill
Ms. Tracey Rayner
Ms. Trina Trimm

Port Royal Primary
Prospect Primary
Purvis Primary
Sandys Secondary Middle School
Somersfield Academy
Somerset Primary

Mrs. Angela Edwards and Mr. Richard Campbell

St. David's Primary
Victor Scott Primary
West End Primary

Mrs. Norma-Jean Richardson

West Pembroke Primary
6. Outstanding Recipients from Dept. of Health School-Based Services nominated by their Program Managers in alphabetical order are:
Community Rehabilitation Services:
Joanna Allitt
Patrice Brown
Shirle Crockwell
Mia Daniels
Angela DeRosa
Pashé Douglas-Sampson
Julie Farnsworth
Akilah Lapsley-Dyer
Gail Parker
Tanika Rayner
Holly Sinclair
Speech-Language Services:
Marissa Brangman
Shawnette Smith
Elrita Wade
Community Health Partners in alphabetical order are:
The Argus Group
Barritt's
BF & M
Dunkley's
La Trattoria
8. Schools with Water-Only Policy or Practice in alphabetical order:
Bermuda High School for Girls
Bermuda Institute
Dellwood Middle School
East End Primary
Elliot Primary
Francis Patton Primary
Heron Bay Primary
Lyceum Preschool
Northlands Primary
Port Royal Primary
Prospect Primary
Purvis Primary
Saltus Grammar
Somersfield Academy
Southampton Preschool
St. George's Preparatory School
St. David's Primary
Victor Scott Preschool
Victor Scott Primary
Warwick Academy
Warwick Preschool
West Pembroke Primary

Read More About