Gina Spence Productions [GSP] recently held the "We Love You Dad" celebration, with Hilton Wolfe being named "Father of the Year."
A spokesperson said, "Gina Spence Productions salute and celebrates Bermuda's Father of the year 2017, Mr. Hilton Wolfe, father to children Makayla Smith, DaeJai Smith, Kyare Smith, and Jeon Wolfe.
"Below you can find words from Hilton Wolfe's eldest daughter, who now resides in the United Kingdom completing her schooling. Hilton has a unique story that touches those who hear it. Hilton has custody of his three oldest children and was a single father to them for most of their lives. His youngest son, he co-parents with his son's mom."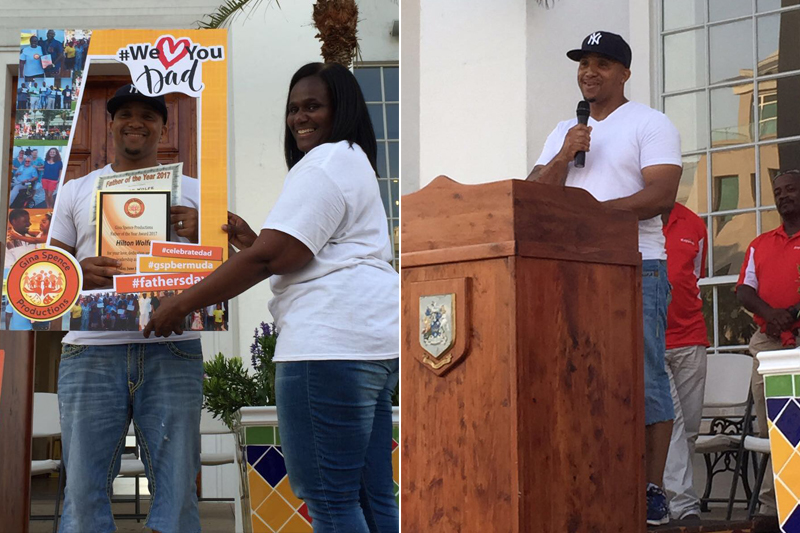 "Hilton is now serving God and is an active member at NTOG Faith Deliverance centre where he serves as a Pastors Armor Barer and Youth leader. His family is proud of him and his recent accomplishments and we all believe that he deserves this award."
The 'We Love You Dad' essay written by Makayla Smith follows below:
The reasons why I love my dad is because he is strong, he is amazing, he is unique, and he is also very kind.

My dad has given up a lot of things for my siblings and I. My dad is extraordinary, he is one of the strongest people I know and he would do whatever it takes to make us happy. He's been a mother and a father. I remember when he used to come to our Mother's Day lunches, and I remember when he used to do my hair – it wasn't perfect but he got better and better.

Not many girls say that they are close to their dad or their dad is in their life, but my dad he's my hero. When I was falling he picked me up, when I thought I couldn't do it he told me I could and he believed in me.

The happiest moment of my life was when I heard the words 'I'm proud of you' from my dad because I'll do anything to make him proud. He taught me to strive for nothing but the best in life, and that's what I'm doing I'm striving for the best, and daddy I just want you to know I love you and I'm so thankful for everything that you have done thank you for giving up so much just so that I could have the best education.

You didn't have to go this far you could have left us in Florida, but you didn't, you came to get us and you brought us home and that's when you became mom and dad. Even though we're thousands of miles apart, we still have that great connection.

Daddy I will continue to be the strong beautiful young lady that you taught me to be. Love you forever and always.
Read More About