"Three Saltus Grammar School students and Bermudian sports stars of the future have won places in US universities renowned for their sporting excellence", according to a school spokesperson.
"Tyquann Perinchief has accepted an offer at NCAA DI Appalachian State University [Boone, North Carolina] soccer programme.
"Bryce Gonsalves has committed to join the Marymount University [Arlington, Virginia] basketball programme and will start his freshmen season in August.
"And Zakiyah Durham has accepted an offer at NJCAA DI Brookhaven College [Dallas, Texas] women's soccer programme, where she will team up with fellow Bermudians Micah Pond and Dashae Darrell."
From left: Saltus student-athletes Tyquann Perinchief, Zakiyah Durham and Bryce Gonsalves heading for university in the fall.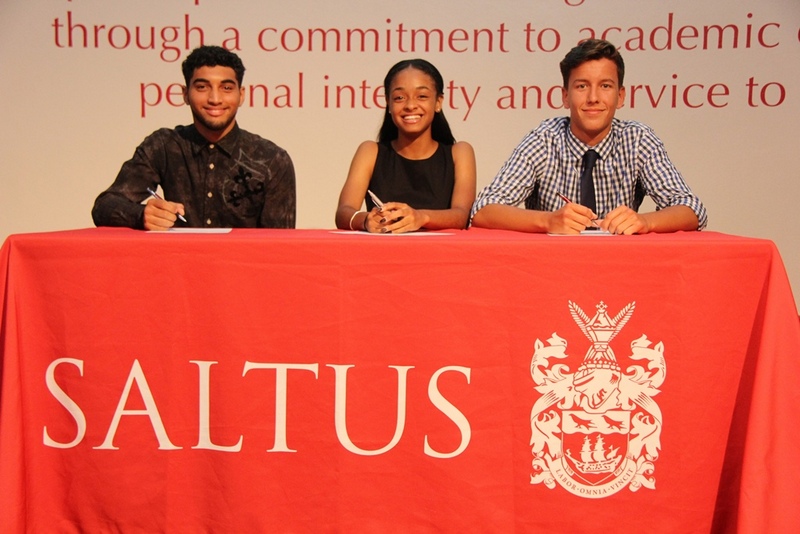 ASU's Head coach Jason O'Keefe said: "Ty is a tremendous competitor. His work ethic combined with his skills will be a great asset to our programme and we can't wait for him to join us in August.
"He will be one of the foundation pieces that help raise our program to new heights on and off the field over the next four years."
Bryce has been attending basketball camps in the US in recent years with U.S. Global Basketball Academy.
Coach Alexander at Marymount said: "Bryce was never a major stat-stuffer and his tremendous value rarely showed up in the box score. Bryce's intangibles are off the charts and allows him to impact the game on many levels.
"Bryce gained the attention of several college coaches, including Marymount, because of his ability to defend. Bryce has the size, six feet five inches tall, and length to defend around the basket. He also has the versatility to guard on the perimeter."
At Brookhaven College assistant- coach Robert Williams added: "After watching video footage of Zakiyah I have no doubt in my mind that Zakiyah will be a huge success here in Dallas and she'll do her family, Saltus and Bermuda proud."
Darrin Lewis, the Director of Athletics at Saltus said the school's athletic department "works extremely hard to prepare their student-athletes to ensure they are eligible for the next level of education and athletics".
"These three student-athletes are a testament of their hard work in the classroom and on the playing field."
The spokesperson said, "Athletes who represented the school in at least one inter-school event have also been recognized at the 5th Annual Athletic Banquet, with guest speaker Tyler Butterfield, a former Saltus student and two time Olympian, Iron Man and Triathlete.
"Zakiyah Durham was named Female Athlete of the Year and Conor White repeated as Male Athlete of the Year.
"Coaches' Awards were given for commitment, willingness to play any position, don't complain about playing time and are a team player: Girls' Netball to SGY2 Jordyn Morris [Univ. of Leicester, UK]; Boys' Rugby to SGY1 Nicholas Terra; Boys' Football to SGY2 Conor White [Brock Univ., Canada] and Girls' Football to SGY1 Alison and Lauren Garvin; Girls' Volleyball to SGY2 MacKenzie Pearman [Univ. of Ontario Institute of Technology] and Boys' Volleyball to SGY2 Anthony Buckley [Queen's Univ., Canada]; Girls' Basketball to SGY2 Zakiyah Durham [Brookhaven College, USA] and Boys' Basketball to SGY2 Bryce Gonsalves [Marymount Univ., USA]."

Read More About