Aiming to make a point at the recent 'Unite the Right' white supremacist rally in Charlottesville, Virginia, one man used a sign featuring a painting by Bermudian artist April Branco, using her work to help present a message of love and equality.
Mark Martin contacted Ms Branco a few weeks ago asking permission to use a print of her painting titled 'Resting Place' in a counter-protest to the recent white supremacist rally in Charlottesville, Virginia.
Along with the image, Mr. Martin's poster read: "God created humanity in God's own image, in the divine image God created them, male and female God created them."
Mr. Martin said to Ms. Branco in an email exchange, that he came across her work online while looking for a "rendering of Adam and Eve as people of color [which, IMHO, they most likely were]."
Ms. Branco, inspired by Mr. Martin's activism, then offered the use of her work free of charge.
Photo of Mark Martin with the painting at the Free Speech Wall in Charlottesville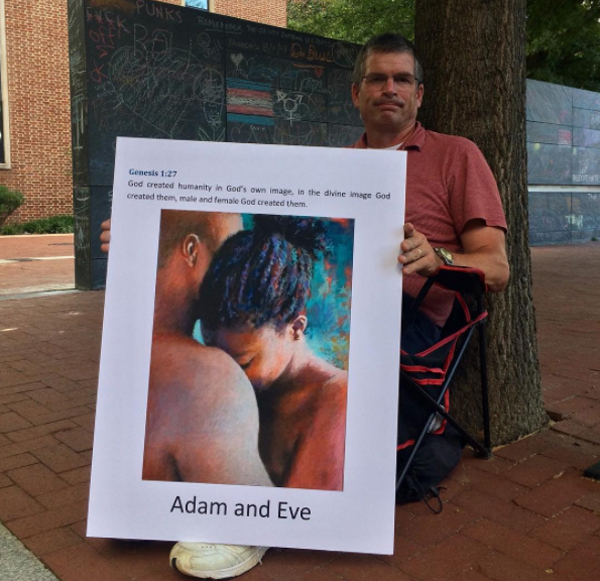 Following the protests, Mr. Martin wrote: "Awful that angry people were hell-bent on violence. Even with much police presence, it was not possible to stop someone so committed to committing a crime from doing so.
"Throughout the day I talked with countless people who had various opinions and agendas. The most remarkable discussion was with a little girl with dark skin. She asked, 'Is that what Adam and Eve looked like?'
"I said this was a painting by April Dawn Branco of Bermuda, and it is how I think Adam and Eve looked. I then asked her what she thought Adam and Eve looked like, and she pointed at the poster and responded, 'I think that.'
Ms. Branco shared an image of Mr. Martin with his poster to Instagram along with the caption: "A few weeks ago this beautiful man Mark Martin contacted me off my website to ask permission to use my painting on his poster at the Charlottesville counter protest against the white supremacists. I had no idea the rally would be so intense. But I am overjoyed that my work is present for love and unity."
Ms. Branco told Bernews, "The inspiration for the painting was from my desire to represent people of color in a healthy relationship.
"Black women are known for being the "strong ones" in the relationship, family, and community. And I wanted to speak to the fact that the black male has something to offer, and can, in fact, be a haven for black women."
Ms. Branco added that she wanted to create an image that challenged the stereotype: "I found that most images of 'black love' show couples in various erotic positions, braids flying, bodies sweaty and oil slicked. It frustrated me. Where is the love? The intimacy? The tenderness?"
Prints of  'Resting Place' and others are available for purchase at www.aprilbranco.com.
Read More About