PinkSand Entertainment is set to present the Made in Bermuda Festival starting on Friday, September 1, running until Monday, September 4.
The four-day festival will feature some of the best entertainers in Bermuda.
The festival kicks off on Friday with the Rising Stars Concert, starting at 7.00 pm at CedarBridge Cafetorium. Hosted by Antoine Jones, this event will feature the best of Bermuda's up and coming stars including Nkosi Hollis, Soleil Richardson, Rated E. Dakota Tucker and more.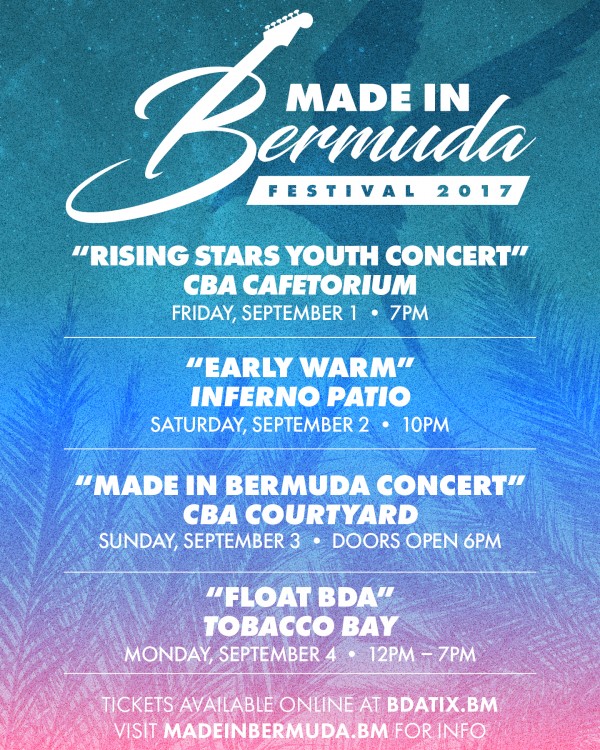 Saturday's Early Worm Party will feature music by DJ Mikey B and Twin Star at Bermuda's Inferno Lounge. Promising to be a sophisticated experience, the event will act as the official warm up to the main event.
Sunday's main event is a live concert featuring Bermudian artists such as Sia Spence, LiveWires, Sheila Smith, Cush Evans, Brittany Cox, Last Call and the Wall Street Band on the main stage. There will also be a variety of other musical performances throughout the festival courtyard.
Guests are invited to mingle around the event's courtyard while enjoying the night's myriad of entertainment, food, and drink in one of the lounge areas before taking their assigned seat for the main event.
On Monday, 'FLOAT BDA,' will close out the festival on Tobacco Bay Beach. This event will run from 12.00 pm til 7.00 pm to which all are invited to enjoy some fun in the sun as the final party of the summer.
The event is sponsored by The Bermuda Arts Council & Peoples Pharmacy. Tickets are available at Peoples Pharmacy, www.bdatix.bm or www.madeinbermuda.bm For more information contact info@madeinbermuda.bm.
Read More About
Category: All, Entertainment, Music