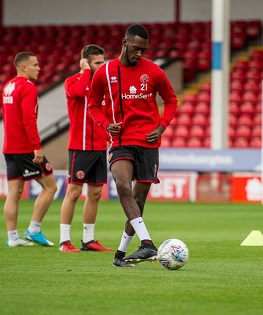 19-year-old Bermudian footballer Kacy Milan Butterfield has joined Leamington on an initial one-month loan deal, Walsall Football Club has announced.
The club said, "Midfielder Milan Butterfield has joined National League North side Leamington on an initial one-month loan deal.
"The 19-year-old, who signed a new one-year deal with The Saddlers over the summer, will be available for the Brakes in their league match against Tamworth.
"Butterfield joined Walsall on an initial one-year deal in June 2016 and was a key part of the club's developmental squad as they won the Walsall Senior Cup last season.
"The Bermudian teenager says he has settled well to life in Walsall since moving from his home country, and is looking forward to testing himself in competitive games at Leamington.
"Just to play men's football is very exciting for me," said Butterfield. "I just want to see what I can do, and do the best I can. I want to get games and get more experience.
"I spoke to the gaffer [Paul Holleran] and he's said he's excited to get me there."
"Butterfield is also pleased to have sign a new deal with The Saddlers for the 2017/18 season.
"I'm very happy to be here for another season," said the youngster. "I've got good friends here, it's a nice area and it's good football.
"It's kind of a culture shock coming over from Bermuda – it was very different for me. I've stayed on my own and done stuff I haven't had to do back at home. I've got over it now and I think I'm good! I've grown as a person here."

Read More About