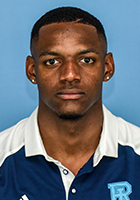 Bermuda's Chae Brangman scored for Rhode Island in the 59th minute as they recorded a 2-1 victory against Boston College.
Brangman plays for the University of Rhode Island, and the school's match report said, "Rhode Island [4-2-2] broke its 234:25 scoring drought when a 38th-minute goal by Niklas Middrup put the Rams on top 1-0.
Peder Kristiansen and Emil Jesman Sunde were credited with assists on the play as Kristiansen served a corner kick into the box, where Jesman Sunde skipped the ball to Middrup for the finish.
"The Rams doubled their lead in the 59th minute when Chae Brangman buried a shot off a setup from Stavros Zarokostas and Joey Cain.
"Ten minutes later, Boston College [3-6-0] cut it to 2-1, but the Eagles were unable to find the back of the net again after Luna Beto's goal.
"Junior Chae Brangman netted his team-leading fourth goal for the Rams, and third game-winner of the season.
"The Rams return to action on Saturday night when they host George Washington at 7 p.m. The game will serve as the Atlantic 10 opener for both teams."

Read More About