Savvy Entertainment will bring music industry executive, author and philanthropist Shanti Das to the island as part of her mental health awareness initiative – Silence the Shame.
A spokesperson said, "Ms. Das started Silence the Shame under Hip-Hop Professional Foundation, an organisation she founded.
"Ms. Das has been at the forefront of the US music industry for more than 20 years. Straight out of college she became national Director of Promotions for LaFace Records and, since then, has lead the marketing divisions of Arista and Universal Motown and is currently the owner of Press Reset Entertainment.
"She has suffered from depression for a number of years and has experienced the impact mental illness has had on some of her close friends and family members. This exposure led her to create Silence the Shame, a programme to encourage and spark discussion around mental health disorders.
"Her aim is to peel off the layers of shame associated with having a mental health illness, exposing the fear and misconceptions that lie beneath, and then educating communities so that the misconceptions are righted. When this happens shame is dropped – silenced.
Ms. Das said, "I hope to spark an international conversation that will lead to increased awareness and funding to support those living with mental health conditions."
"September is Suicide Awareness Month and we felt it fitting to round out the month with this worldwide awareness initiative .We are pleased to bring Shanti Das to Bermuda so that we all can share in the Silence the Shame initiative," said Savvy Entertainment Chief Operating Officer, Danilee Trott.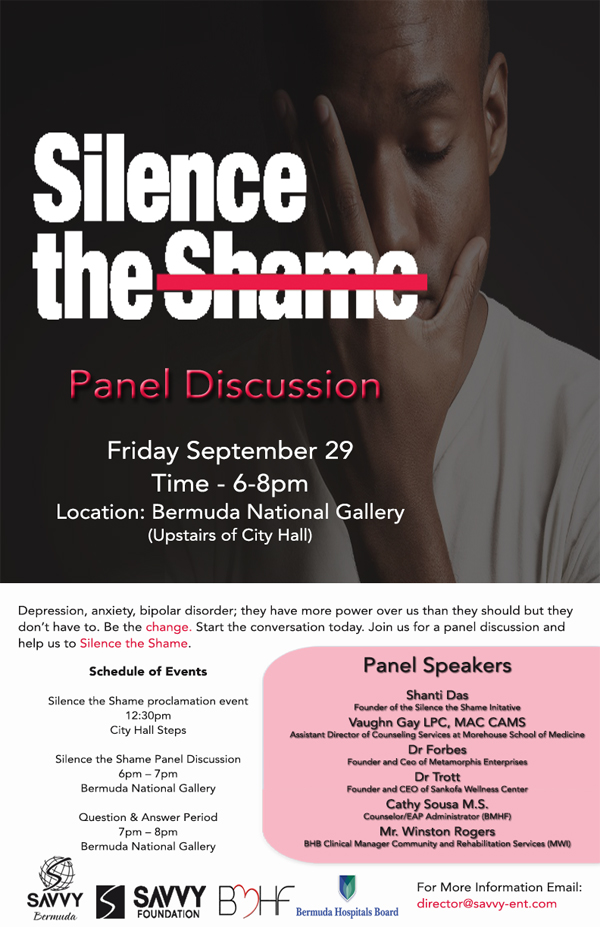 "Savvy Entertainment has also partnered with Bermuda Hospitals Board for the mental health awareness events."
Preston Swan, BHB VP Quality and Risk Management, said, "The general public tend not to realize that mental illness affects a significant number of people in the community, many of whom are able to learn to cope and manage their condition.
"An understanding society, where people are caring and supportive of those with mental illness creates a healthy environment for the community at large. At MWI we encourage dialogue and efforts that foster this attitude. So, we are happy to take part in the Shame the Silence initiative's panel discussion here at home."
A Bermuda Mental Health Foundation spokesperson said, "The Foundation salutes Savvy Entertainment for recognizing the continued need for dialog around the topics of stigma against those who have a mental illness. We look forward to working with Savvy Entertainment and the Silence the Shame team, and we hope that the public will come out and support this initiative."
"On, Friday September 29th, Savvy Entertainment will be hosting a Silence the Shame Proclamation on City Hall Steps at 12:30pm as well as a Silence the Shame Panel Discussion at 6:00pm at the Bermuda National Gallery.
"Panelists include Ms. Das, Vaughn Gray, Assistant Director of Counselling Service, Morehouse University School of Medicine; Dr Khaalida T Forbes, Founder and CEO of Metamorphosis Enterprises; Dr Larry Trott, Founder and CEO of Sankofa Wellness Center; Cathy Sousa, counsellor and member of Bermuda Mental Health Foundation; and Winston Rogers, BHB Clinical Manager Community & Rehabilitation Services, Mid-Atlantic Wellness Institute.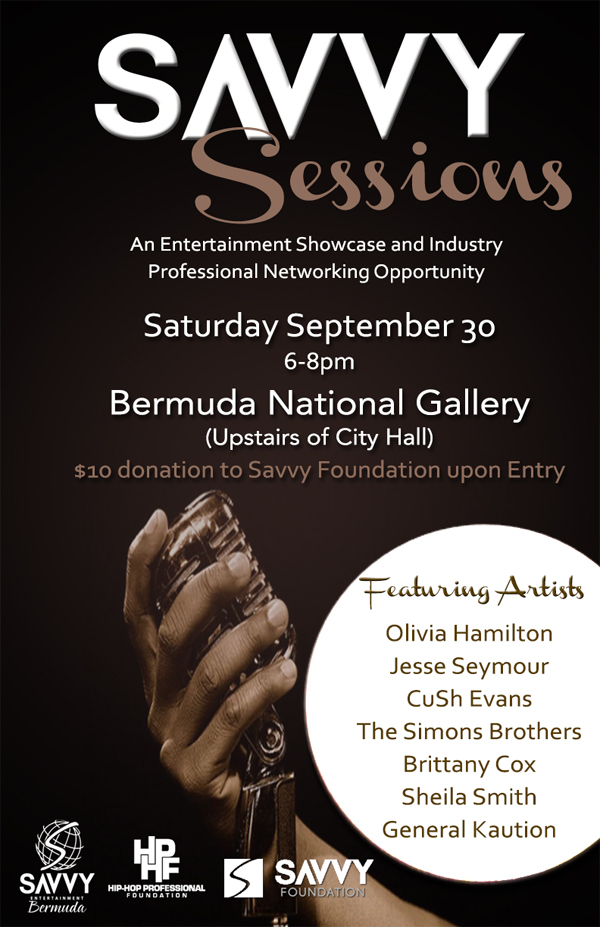 "Both the proclamation and the panel discussion are free and open to the public.
"While Shanti Das is on the island, Savvy Entertainment has arranged to host Savvy Sessions. Savvy Sessions provide a platform for artists to showcase their talent in front of a small audience and music industry professionals from around the world.
"A handful of local talent has been selected for an intimate listening showcase for Ms. Das and Sony songwriter Anthony Blakey. The pair will be giving advice about their craft and career progression.
"We are absolutely ecstatic to bring Savvy Sessions to Bermuda," says Anthony Blakey, Savvy Entertainment CEO. "We truly believe that Bermuda has a number of undiscovered talented individuals and are elated to be able to provide a platform for them to showcase their skills."
"Savvy Sessions will be held on Saturday 30 September at the Bermuda National Gallery from 6pm to 8pm. The public is invited. A limited number of tickets to Savvy Sessions is available for a $10 donation at ptix.bm."

Read More About
Category: All, Entertainment