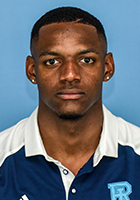 Bermudian footballer Chae Brangman continues to impress at his Rhode Island University, scoring his team-leading sixth goal of the season as they recorded a 2-2 draw against Davidson.
Brangman plays for the University of Rhode Island, and the school's match report said, "Rhode Island struck first, getting on the board midway through the first half when Chae Brangman roofed in a loose ball off a corner kick by Dominik Richter.
"Davidson responded with a pair of second-half goals however, both off set pieces just outside the box. The Wildcats first evened the score in the in the 59th minute when Jordan Hill headed in a free kick by Hunter Howard. Davidson then pulled ahead at the 74:01 mark on a John Dale goal off assists from both Hill and Cort Coxhead.
"With time winding down in regulation, Rhode Island continued to apply the pressure in Davidson's defensive third. The Rams eventually equalized with just 25 seconds left on the clock when Richter buried a loose ball inside the box.
"Rhody outshot Davidson 9-2 in the overtime periods, with the Rams' best chance coming in the 107th minute when Davidson's Sam Bissett stopped a point blank shot from Stavros Zarokostas. Five of Bissett's seven saves on the night came in extra time.
"Junior Chae Brangman netted his team-leading sixth goal of the season. He has now registered either a goal or an assist in each of Rhody's four A-10 games, and leads the team with 15 points on six goals and three assists."

Read More About