Footy Promotions has concluded their annual Samba Futsal Clinic hosted by Denison Cabral, who is President and Founder of Denison Cabral Futsal Academy [DCFA] and Head Coach of Harrisburg Heat] at the BAA Gymnasium.
Vinzie Zuill, President of Footy Promotions, said, "Through our player development program, Footy Force Futsal Academy [FFFA], we use futsal to complement the player's outdoor football game. Therefore, every year we are excited to partner with Denison and DCFA to bring quality training and Brazilian skill sessions to local players.
"Denison has been instrumental in the growth of futsal here in Bermuda. We are always glad to have him here along with Kate Laukhart [DCFA coach]. His visions for the game align with Footy Force's visions, which are benefiting local players and providing them with great opportunities and positive environments to play.
"The player's that attended the clinic really impressed the coaches with their skills and confidence. After the skills training, we also hosted a 4v4 tournament, which was very entertaining."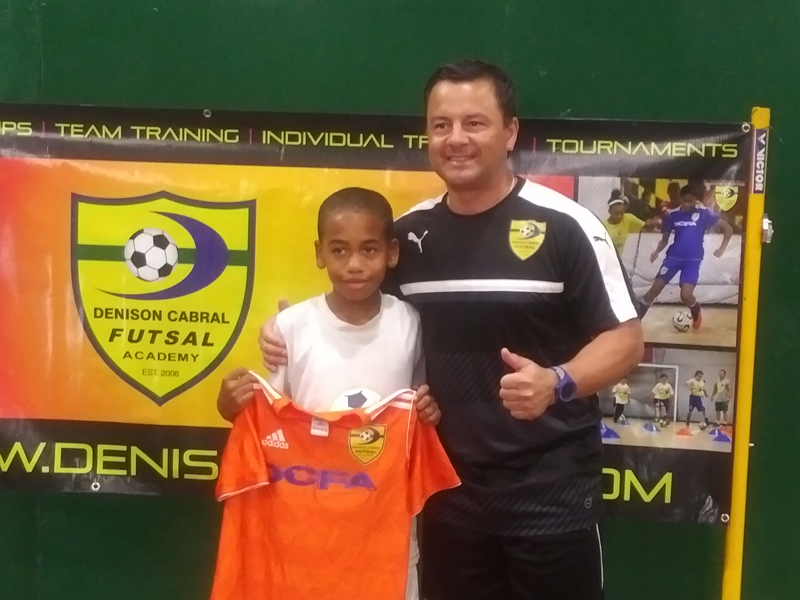 Denison Cabral said, "DCFA is excited to announce the official invitation to Harlem Bean-Fox [9 years old] from Bermuda to represent his country, his futsal club [Footy Force Futsal Academy] to come and visit our club in Maryland USA for three days of full activities with our players, coaching staff in 2018.
"Harlem was selected by our coaching staff last week during our 2017 Samba Futsal Clinic and without any question we felt that other players also did a great job but we could only select one player for this year. Congrats to Harlem, we can't wait to see you here.
"On his trip sponsored and organized by Denison Cabral Futsal Academy LLC and Footy Force Futsal Academy [in collaboration] Harlem will have the opportunity to visit the official DCFA facility for scrimmages, training sessions and a tour in the city of Baltimore.
"This is a great opportunity for this young player to see for himself how DCFA works, play with some of our Elite players and work with our experienced staff in USA. DCFA and Footy Force worked hard to make this happen and both organizations are committed to create many other positive opportunities for our kids similar to this trip.
"We are using Futsal to connect our kids to some amazing international, cultural and sports related life experiences. We are happy for Harlem and his family, this is what makes us two very unique youth clubs and united every year. Go DCFA! Go Footy Force!"

Read More About